Celery Root Mash is unbelievably delicious! This is my version of "mashed potatoes" and honestly, I would eat this instead of mashed potatoes any day. It's super yummy, creamy like mashed potatoes and has just the slightest hint of celery.
Equipment: Medium Saucepan w/ Lid, Food Processor or Hand Mixer
Celery Root Mash
Yield 2 1/2 cups of puree
This makes a wonderful side dish.  Make sure to make enough, I always want to eat the whole batch. 
Ingredients
4 cups celery root (about 3 medium), peeled, cut into 1" pieces
1 1/2 - 2 cups filtered water
2-4 tablespoons pasture butter 
1/2 teaspoon Celtic sea salt or to taste 
Instructions
Prep celery root - wash, peel and cut into 1 inch chunks.  
Add celery root chunks to the saucepan.  Add water, just enough to barely cover the celery root.  Cover with lid and bring to a boil.  Reduce heat and simmer for about 15-20 minutes or until fork tender.  
Strain water and place celery root into food processor.  Add pasture butter and sea salt, pulse until celery root becomes a smooth puree, about 1 minute.  
Serve hot or refrigerate for later.
Notes
Storage: Store in an airtight container in the refrigerator up to 3 days.  
Serving Suggestions: Serve with Pasture Roasted Chicken, Pot Roast, Grassfed Lamb Chops, Pan-Sauteed Fish, Sauteed or Roasted Vegetables or top with Homemade Gravy.  Use as a substitution for any meal with mashed potatoes.
Are you on Pinterest? I pin lots of yummy real food recipes + more there. I have a board just for Fall Inspired + Thanksgiving and Side Dishes too! Come follow along.
MORE RECIPES YOU MIGHT ENJOY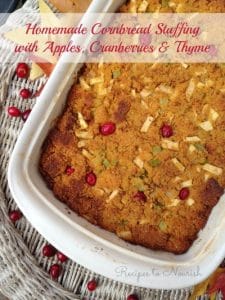 Homemade Cornbread Stuffing with Apples, Cranberries & Thyme {Gluten Free}