Grapes are already made for snacking. When they're roasted they become gourmet, sweet little juicy bites of bliss. With a touch of sea salt and some buttery goodness, these savory roasted grapes are sure to be a hit.
Roasted Grapes are the perfect, elegant snack this time of year as fall rolls in.
Out with the summer fruit and in with the all of the fall goodness. Grapes are in season! Farmers markets and local grocery stores have full shelves of lots of varieties of grapes right now. Everything from Concord grapes, to Red Flame grapes, to Thompson green grapes, to Champagne grapes, etc.
Have you taken advantage of snacking on some of these beauties yet?
We've been getting lots of Red Flame grapes for school lunches and snacks and also Concord grapes because they're my favorite.
While I do love Concord grapes, I don't care for their seeds. So for snacking, our go-to is always Red Flame grapes. They seem to be one seedless grape variety that most people enjoy.
My favorite way to take these regular snacking grapes up a notch is by roasting them. If you've never tried roasted grapes, PLEASE DO!!! They are so good!!!
If you have any kind of parties, picnics, or potlucks on your calendar, make sure to make these! People go crazy for them! Instead of fresh fruit, add roasted grapes to a cheese plate and they will disappear fast.
Roasted grapes are super easy to make.
All you need to do is grab a bunch of seedless grapes, whatever kind you prefer. Red, purple and green grapes all look pretty once they're roasted.
Add a little bit of your favorite healthy fat of choice, I love to use grass-fed butter or ghee, but avocado oil works great too. Then sprinkle some quality Celtic sea salt over those beauties. Into the oven they go and out comes the most delectable little bites.
There are so many different ways you can enjoy roasted grapes … but my favorite is on top of homemade honey vanilla ice cream. Oh. My. Goodness. They are so good on top of creamy, icy cold, vanilla ice cream. Seriously amazing. Try it! Trust me, it's so good.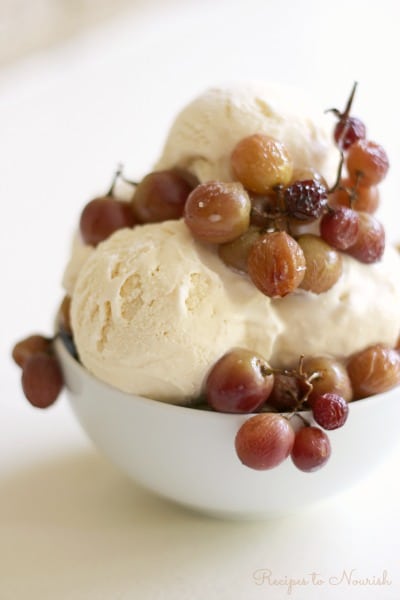 However you eat these roasted grapes, make sure to savor ever single bite.
I'm super excited to be sharing this delicious Roasted Grapes recipe over at Delicious Obsessions!
Are you on Pinterest? I pin lots of yummy real food recipes + more there. I have a board just for Gluten Free Treats too. Come follow along.
MORE RECIPES YOU MIGHT LIKE
Grain Free Pumpkin Cheesecake Muffins