Interested in ordering Young Living essential oils? Who you order from matters! Find out why it matters and learn how to get the most savings, check out the deals and get your questions answered on how it all works.

How to Order from Young Living
It's really easy to order from Young Living. All that you need to do is add the products that you want to your shopping cart and check out. You can shop directly at youngliving.com (just be sure to use my member number 2761430 as the enroller/sponsor) or use one of the links below to shop and I'll get the credit (thank you!) - which means you will get access to all of my resources too (keep reading to learn more) and a free gift from me.
WHAT YOU CAN SHOP FOR:
The Starter Kit - Most Affordable Option
Ready to get started with essential oils? Get the premium starter kit. Why? It's the best introduction to essential oils and it's the best deal too. There are literally 100+ uses for the starter kit! One 5 ml bottle contains 75 drops of essential oil. I typically use 2 drops of oil per use, sometimes less. I use about 5 drops in my diffuser. So you can see that a little goes a long way.
The premium starter kit is also the best deal. You get 12 oils, a diffuser, Thieves hand sanitizer, Thieves spray and other goodies for just $165. That's like paying less than $10 per bottle and just $45 for the diffuser. You also get 24% off future purchases too. Think of it like Costco, but way better and there are no monthly minimums or fees. At retail, this set would be over $400! So that's a 60% savings just by getting this starter set.
How to Unlock the 24% Off Discount for any Non-Starter Kit Options
There are two ways that you can unlock the 24% off discount:
Spend 100 PV on any products (each item has PV and you'll see that listed as "PV" when you shop)

Add any product for any amount on Loyalty Rewards (the monthly subscription program)
Once you've unlocked the 24% off savings, you'll be able to enjoy the discount on future orders too! If you spend 100 PV, you'll have the discount for 12 months. If you get on Loyalty Rewards, you'll have the discount as long as you're on Loyalty Rewards.
You don't have to do both of the above to unlock the 24% discount - just pick one. However, I do recommend Loyalty Rewards because you earn points on your order if you spend over 50 PV (more on that coming, keep reading to learn more).
If you live outside the US, there are different ordering options, but they are very similar.
Helpful Shopping Tips
Spend 100 PV and get free shipping (US orders only).

Get freebies from Young Living when you spend 190, 250 or 300 PV. These are updated monthly but are usually oils, supplements, skin care products, etc. - and they have huge value, like $100+ worth of products for free.

Get on Loyalty Rewards (the optional autoship program) for at least 50 PV and you can earn 10% back on your order. If you decide to stay on STS monthly, you'll earn up to 25% back in points. Loyalty Rewards is optional, but it's a great way to earn back points - which are used like cash to get pretty much anything from Young Living for free.

Consider getting a starter bundle like the

premium starter kit, which includes 12 essential oils, a diffuser, Thieves hand sanitizer, Thieves spray and 2 NingXia Red packets. It's a great deal at 60% off retail, plus you unlock the 24% off discount on future orders. You can get this starter bundle (or an alternate bundle like the KidScents® Little Oilers Premium Starter Bundle, etc. – most of them are 50% off retail) and add on anything additional that you want and still get that 24% off savings.
Need help choosing what products to order? I'd be happy to help - for the fastest response, please message me on Recipes to Nourish's Instagram or Facebook page. One of my favorite products that EVERYONE should try is the Thieves Household Cleaner (it's a concentrate and you just add one capful to a large spray bottle with filtered water to clean pretty much everything in your home) and I love the Thieves waterless hand sanitizer too!
A Free Gift for You
When you use my link to place an order of 100 PV or more, you'll get $25 back in product credit from me (international customers who spend 100 PV or more will have this option too).
Team Community & Other Perks
Remember when I mentioned earlier that IT MATTERS who you get started with?
When you sign up with me, you join our 12,000+ community and will get access to all our team resources, classes, training, plus support and resources to help you on this journey.
In addition, you'll be able to make new friends and feel like you're part of a tribe who understands you on this wellness journey.
Here's what you can get on our team:
Community

Mentorship

New friends

Training

Local and online events, including team retreats

Team Facebook groups

Team exclusive training and events that you won't get anywhere else

Weekly calls

Classes and updates via text

Giveaways and contests to get free products, oil accessories, product credits, etc.

Business training (class scripts, social media, videos, resources, photography and images, weekly Zoom calls) – this is totally optional and not at all required

And so much more!
What are Essential Oils?
Essential oils are the oil of the plant from which they were extracted. They're basically concentrated herbs! They contain all the goodness that protects and maintains the plant, and we can use them to help support our own bodies' health and wellness.
There are many different kinds of oils out there, and they all have different properties and uses. From well-known plants like Lavender, Orange and Bergamot to unusual and exotic ones like Frankincense (my favorite), Vetiver and Geranium, there's an unfathomably huge range to choose from – and they each provide all sorts of different therapeutic benefits and uses.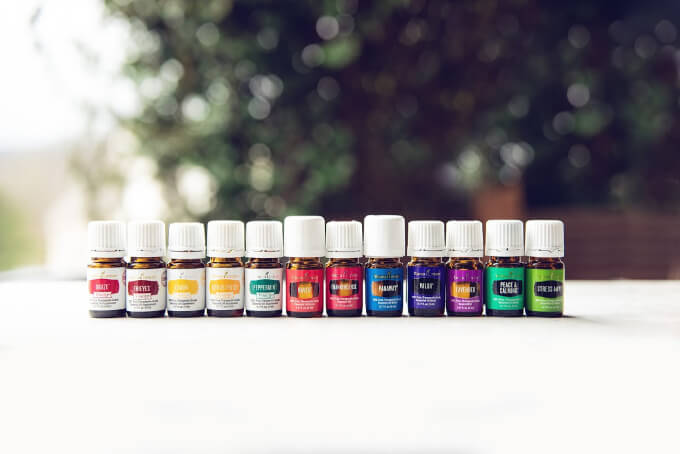 Why Choose Young Living Essential Oils!
There are many reasons why this brand is so great!
The source matters ...
One of the most important things I've learned in my journey to healthy living is that it's not just what something is – it's where it comes from, how it's grown, and how it's processed. Whether it's blueberries fresh from the farm, or cows on green pasture, I know that the source and how they're grown matters.
I did many hours of research to find an essential oil company that I felt I could trust with my family's health - in fact, it actually took me two years of back-and-forth questions with my Crown Diamond enroller before I decided to say yes to using Young Living.
Young Living is the company that truly cares about quality. If I'm going to be putting products on my family's skin and around our home, I want to know they're pure and unadulterated!
They have been around for more than 20 years and they're the only essential oil company that owns farms all over the world (including France, Oman, Ecuador, and here in the U.S.) and oil distilleries. In fact, Gary Young, the founder of Young Living, built the first essential oil distillery in the U.S.
Their commitment to quality is called Seed to Seal. To ensure the purity of their oils, the team at Young Living set the highest standards for planting, harvesting, and distilling on the farms they own and co-op. They never use chemical pesticides, herbicides or fertilizers on the plants used for essential oils, which means there is never any concentrated pesticide residue in your essential oils. And best of all, you can see it first hand. Young Living members are encouraged to visit the farms to experience Seed to Seal.
Store-bought essential oils are not required to include the ingredients on their labels and the term "natural" or "pure" is not regulated by any governing body. So store-bought oils may say "pure" and "natural" but they may still have synthetic additives. Almost all store-bought essential oils contain a warning "do not ingest"… this is usually an indication that they are not pure. Young Living essential oils are one of the only essential oils that are cleared as dietary supplements … this also means that they are regulated and required to disclose all ingredients on the label, which is always unadulterated oils.
Why Can't I Just Buy Oils on Amazon or Natural Food Stores? Can't I just use any essential oils?
In my opinion, no. I've done a lot of research into this and found that many of the essentials oils found in health food stores, specialty stores, boutiques and even online stores are NOT 100% essential oils. They're simply not the same quality as Young Living.
The plants used to make them may be exposed to pesticides and other toxins, even if they're organic they may be processed with chemical solvents or even combined with synthetic fragrances thereby degrading their therapeutic quality. You never really know what you're going to get.
Many store-bought oils have been adulterated with synthetic chemicals or contain cheap essential oils produced from crops with pesticides. Check the labels – they typically say not for "internal use" or "do not put directly on the skin".
I even challenge you to smell the difference. Peppermint, for instance, shouldn't smell sweet or like candy. It should smell like a fresh-cut herb. When you compare Young Living's Peppermint with another company – there's simply no comparison.
Unfortunately, Amazon is no better either. There are imposter oils that are sold online labeled as Young Living, but those are fake oils. Young Living does NOT sell on Amazon, you can only buy their oils through the actual company or an independent distributor (like me).
If you ask me, there's one particular brand that stands head and shoulders above the rest: Young Living.
Why I Got Started with Essential Oils
Before I had my first daughter, I decided that I wanted to do everything possible to make sure I would be giving her a good start. For me that included changing my lifestyle - not only my diet, but also what I put on my body, what I used in my home and around the home.
I changed my diet overnight, ditched processed foods and started eating only real food. I also got rid of all of my skincare and body products and household chemicals (both home and garden) including chlorine bleach.
But buying organic, store-bought body and home products isn't cheap! I knew I needed to find another way to clean my home and care for body and skin - and that's one reason essential oils became a big part of my life.
If you're a regular reader of my blog, you know I'm a busy mommy of many. Lavender, Stress Away, Citrus Fresh, Orange and Frankincense are my go-to essential oils for balance: they relax me, calm me down, brighten my mood and make everything possible. I diffuse them, wear them in my diffuser necklace and mix some of them with Dead Sea Salts or epsom salt for a nice, relaxing bath.
Orange and Vanilla diffused together is one of my favorite morning blends, it smells amazing (like and orange creamsicle)! It's so uplifting and helps bring in those joyful feelings to start the day off right. Tangerine and Lemon diffused together in the evening is one of my favorite diffuser combos. My family likes to diffuses it after dinner time. I love how it freshens the air and helps calm the mood.
I love to make tons of DIY homemade recipes with my essential oils! From hand soap, to oral hygiene, to natural body products, to laundry care, etc. I love being able to use my essential oils to replace toxic home and body products.
Those are just a few examples, but essential oils have also replaced many everyday products that I used to spend a fortune on. Now I clean my home with oil-infused natural cleaners rather than toxic chemicals from the supermarket. I cleanse my face with oil-infused natural products too. And my family benefits from using calming essential oils in the diffuser before bedtime!
Frequently Asked Questions (FAQs)
Is there an order minimum?
No. You can order anything that you want at any price. If you want to unlock the 24% off discount, you just need to either spend 100 PV or more on your first order or add any product for any amount on Subscribe to Save (the autoship program) at either 1, 2 or 3 month intervals.
For example, you can buy one bottle of lemon essential oil and put it on Loyalty Rewards for every 3 months to unlock the 24% off discount. You can buy additional products and still get that 24% off discount as long as you are on Loyalty Rewards.
If you spend 100 PV, you'll unlock the 24% off discount for 12 months.
What is

Loyalty Rewards

?
Loyalty Rewards (formerly known as Essential Rewards & Subscribe to Save) is an optional autoship program. You can unlock the 24% off discount when you get on Loyalty Rewards. You'll have the option to choose any products you want to auto ship at 1, 2 or 3 month intervals. You can also remove or add items and change the intervals you want to receive them.
When you spend at least 50 PV on Loyalty Rewards, you can earn 10% back on your order. If you decide to stay on STS monthly, you'll earn up to 25% back in points. Loyalty Rewards is optional, but it's a great way to earn back points, which are used like cash to get pretty much anything from Young Living for free.
Loyalty Rewards is a great way to make the switch to natural products over time. For instance, you can ditch household cleaners one month and use Thieves Household Cleaner, then the next month switch out bath and body products, then the next month swap out mainstream makeup for Young Living's Savvy Minerals clean makeup line, etc. Young Living even has supplements!
I don't really want to sell essential oils. Do I have to sell Young Living products to get the 24% off discount?
Absolutely not. You don't ever have to sell or do the business. It's an option if you'd like, but not a requirement. Since there is no monthly order requirement you can simply just order whenever you and your family need it.
Is there a referral program?
Yes! While it's not a requirement at all to sell or do the business, it's an option. When you place your first order, you'll create an account and will be given a referral link you can use to share with family and friends. You can earn 25% on their orders for the first 3 months and then 4-8% after that, plus qualify for other bonuses and commissions. The only thing that you need to do is get a Business Essentials Kit for $29.95, which comes with all the resources that you need to start sharing. I have more information on How to Make Money with a Young Living Business, just reach out if you have questions - for the fastest response, please message me on Recipes to Nourish's Instagram or Facebook page.
LEARN MORE ABOUT ESSENTIAL OILS & JOIN MY FB GROUP
JOIN MY Recipes to Nourish – Natural Living Facebook Group – a learning community focusing on Natural Living, Self Care, Wellness & Vibrant Health. Topics include DIY recipes, natural body care, real food recipes, non-toxic living, supporting the body, chemical free home and much more.
Disclaimer: ALL information you read on Recipes to Nourish is purely for informational and educational purposes only. I love to share and share with love, but I am not a health care practitioner. Information is not intended to treat, cure or prevent any disease. Statements within this site have not been approved by the FDA, meaning information and statements regarding health claims on this blog have not been evaluated by the Food and Drug Administration. All blog posts are solely my personal experiences and opinions and should not be interpreted as an attempt to offer a medical opinion. If you have questions about food, diet, nutrition, natural remedies or holistic health, please do your own research and consult with your health care practitioner. For more information please see all of my disclaimers and disclosures.
Photo credits: Oil Revolution Designs, Life Steps app
Save
SaveSave
SaveSave
SaveSave
SaveSaveSaveSaveSaveSave
SaveSaveSaveSave
SaveSave
SaveSave