Perfectly soft and tender, these Grain Free Triple Chocolate Pumpkin Cupcakes are so luscious and easy to make too! They're naturally sweetened, Paleo-friendly and so fun as a festive treat.
Cocoa based muffins with quality chocolate chunks plus chocolate buttercream frosting!
Chocolate lovers, these triple chocolate pumpkin cupcakes are for you!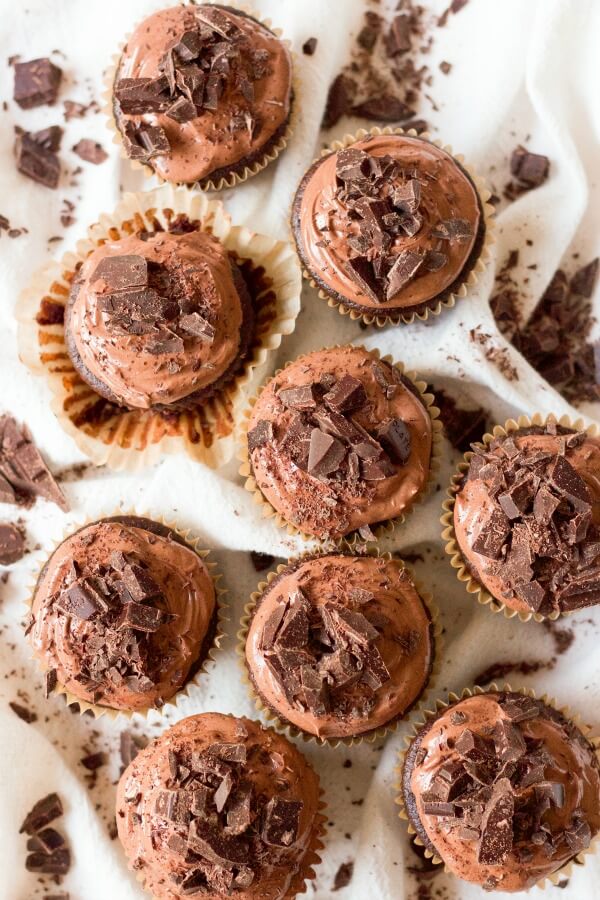 These are probably my most favorite cupcakes ever. They're that good!
The texture is AMAZING! These cupcakes are incredibly soft and tender. I'm not going to mention the "M" word that's often used to describe baked goods, because well, the word is kind of weird for this context. I mean, I don't want to eat a cupcake that's watery and damp. Eewww.
I want a cupcake that has the perfect texture, nothing that's dry or too dense. And these cupcakes have the perfect texture and more.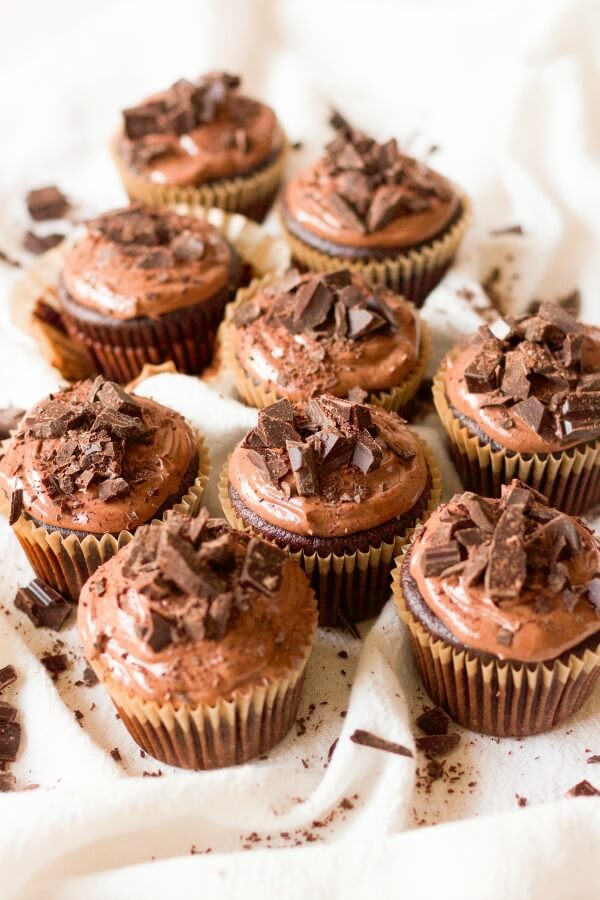 Don't let the pumpkin throw you off, you can't taste it in these grain free chocolate cupcakes.
I know not everyone is a fan of pumpkin or chocolate pumpkin treats. I personally enjoy chocolate pumpkin treats, but for some, the pumpkin flavor can be too overpowering.
Have no fear with these cupcakes though, the pumpkin simply helps keep these cupcakes perfectly tender with a soft crumb.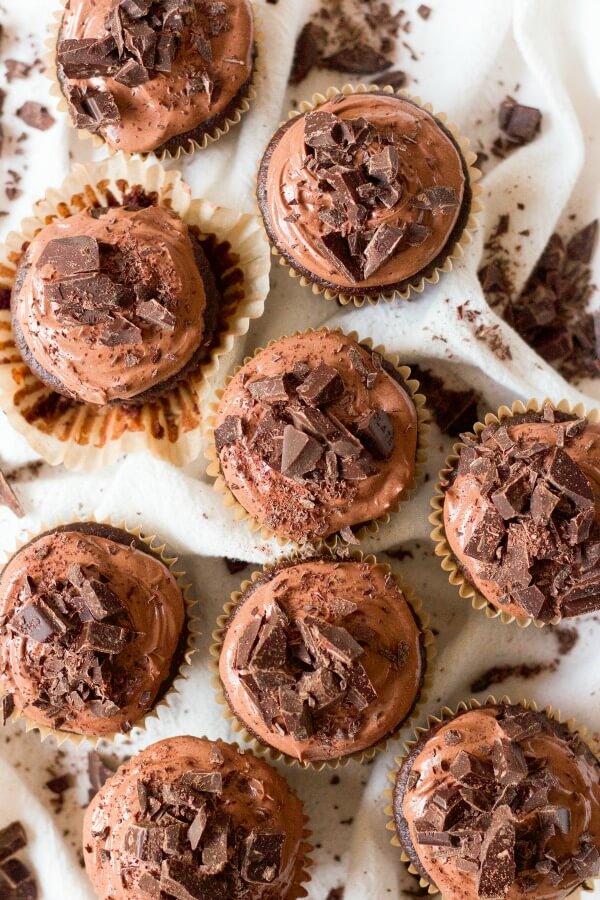 There is so much chocolate goodness in these grain-free triple chocolate pumpkin cupcakes!
First you start with a chocolate base made with cocoa powder. For easy prep, everything goes into the blender and gets mixed up in seconds.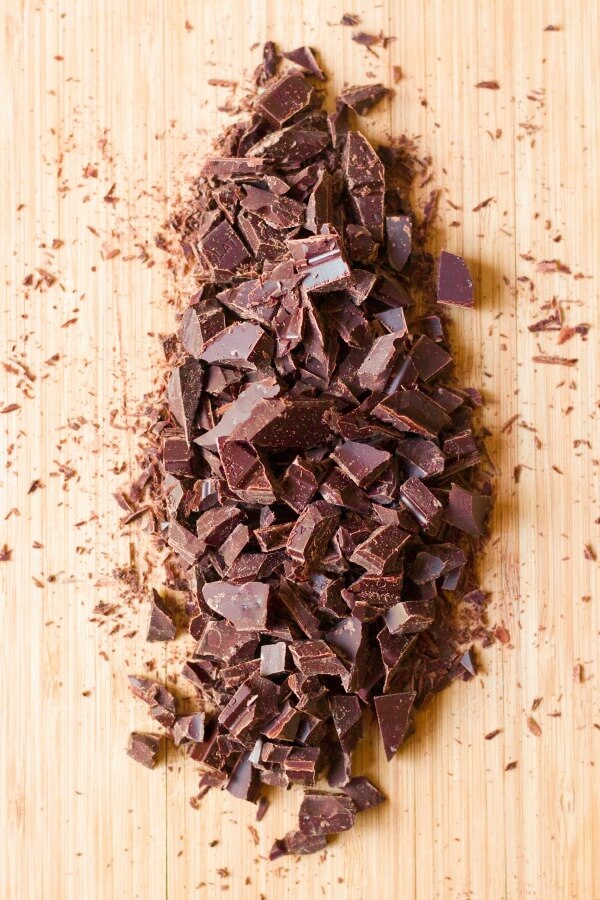 Then chunks of a quality chocolate bar get folded into the chocolate cupcake batter. While the cupcakes are baking, the chocolate frosting comes next. Homemade chocolate buttercream sweetened with honey to be exact.
This chocolate buttercream frosting is so good! It's just like my honey sweetened vanilla buttercream frosting, but cocoa powder is added and my goodness it's lip-smacking good!
If you've followed me for many years, back when I first started this blog over 7 years ago, then you will remember this chocolate buttercream frosting. It's an old recipe, one of the first that used to be on my blog and the photo of the chocolate cake with the chocolate buttercream frosting used to be on my original homepage header.
The quality of those photos are not up to my standard, so you'll find the recipe here now instead of on that older post.
For an extra special touch, really it makes it a quadruple chocolate layer, add more chopped up pieces of quality chocolate as a garnish on the tops of the frosted cupcakes.
Enjoy these special grain-free triple chocolate pumpkin cupcakes while pumpkin is in season. They are such a delicious treat!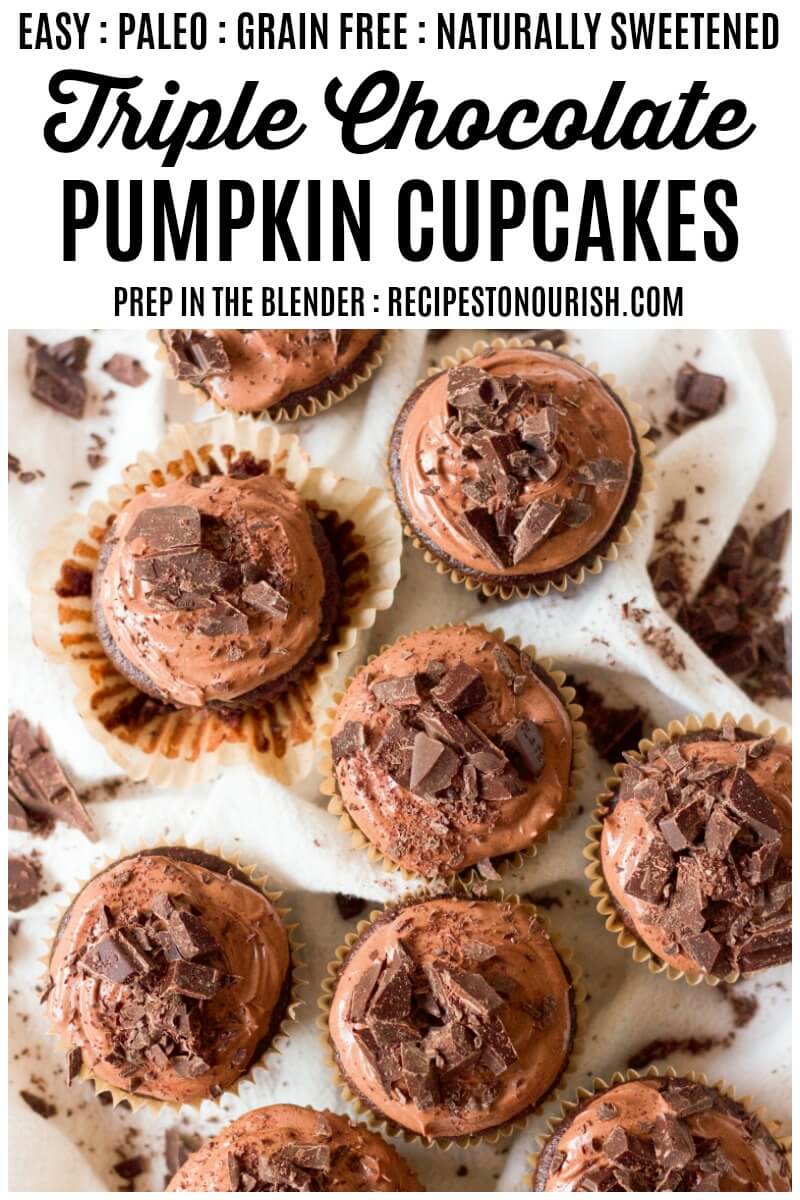 Grain Free Triple Chocolate Pumpkin Cupcakes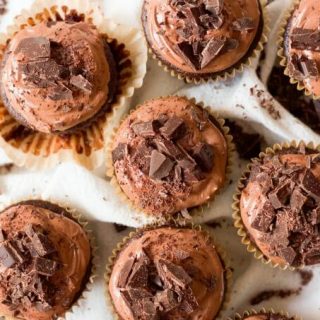 Grain Free Triple Chocolate Pumpkin Cupcakes
Perfectly soft and tender, these Grain Free Triple Chocolate Pumpkin Cupcakes are so luscious and easy to make too! They're naturally sweetened, Paleo-friendly and so fun as a festive treat.
Ingredients
For the Chocolate Pumpkin Cupcakes:
½ cup grass-fed butter or ghee
½ cup filtered water
½ cup pumpkin puree, preferably organic (<-- I use this BPA-free one)
½ cup maple syrup or coconut nectar
¾ cup cassava flour (<-- this is the only cassava flour I use and recommend)
¼ cup cocoa powder (<-- this is the fair-trade cocoa I use)
1 teaspoon vanilla extract
½ teaspoon baking soda
¼ teaspoon Celtic sea salt or Himalayan salt (<-- this is my favorite sea salt)
2 eggs, preferably pastured or organic
½ to cup quality, fair-trade chocolate bar, chopped
For the Chocolate Buttercream Frosting:
½ cup grass-fed butter, softened or room temperature
½ cup + 2 tablespoon raw honey (I use local raw clover creamed)
3 to 4 tablespoon cocoa powder (use 3 tablespoon for lighter chocolate flavor)
2 teaspoon vanilla extract
¼ teaspoon Celtic sea salt (<-- this is my favorite sea salt)
½ cup quality, fair-trade chocolate bar, chopped - for garnish
Instructions
To Make the Chocolate Pumpkin Cupcakes:
Preheat the oven to 350 degrees F. Line a muffin pan with muffin/cupcake liners. Set aside.
In a small saucepan over medium heat, add healthy fat of choice and water and warm until the fat has melted. Remove from heat and pour into a high powered blender. Add the pumpkin, sweetener of choice, cassava flour, cocoa powder, vanilla, baking soda, salt and eggs in the order listed. Blend on low speed for a few seconds, then scrape down the sides and blend once more for a few seconds, just until combined. Do not over mix. Add the chocolate to the blender and give it a gentle stir with a spatula, just until incorporated.
Pour the cupcake batter into lined muffin/cupcake wrappers and bake for 15-18 minutes, until a toothpick inserted into the middle comes out with no more than a few moist crumbs. Depending on oven temperatures and your muffin pan, test your cupcake at 12 minutes to gauge how much longer they will need to bake. My oven bakes these cupcakes perfectly at 18 minutes.
Allow the cupcakes to fully cool for at least 30 minutes before topping with the chocolate frosting. After frosting the cupcakes, sprinkle the tops of the frosting with chopped up chocolate.
To Make the Chocolate Buttercream Frosting:
Fit a standing mixer with the flat beater (if you don't have a standing mixer, you could use a hand mixer or food processor instead) and mixing bowl.
Add the butter, honey, cocoa powder and vanilla to the bowl and mix on low speed until the butter starts to soften. Increase the speed and whip until creamed and it begins to have a lighter brown color, about 1 minute. Stop the mixer and scrape down frosting with a spatula as needed.
Notes
Equipment: Muffin Pan, Muffin/Cupcake Liners, Small Saucepan, Blender, Standing Mixer & Bowl or Hand Mixer, Spatula
For the Quality Chocolate: I highly recommend the following quality chocolate.
For Paleo versions, I love these naturally sweetened chocolate bars and these honey-sweetened chocolate bars (the raspberry honey-sweetened chocolate bar is my favorite!). This is my favorite brand for sugar-free stevia-sweetened chocolate.
For the Frosting:
Use a lighter color honey for the frosting (not wildflower honey) to ensure the flavor stays mild and not bold in flavor.
Note: HONEY IS NOT INTENDED FOR BABIES UNDER 2 YEARS OLD.
Storage: If storing for later, make sure to take the frosting out of the refrigerator about 20 minutes before frosting so it's not so hard and will spread easier.
The photographs of this recipe, recipe and all content above are copyright protected. Please do not use my photos without prior written permission. If you choose to share this recipe, please feel free to share by using proper etiquette and providing a link back to my original recipe on my blog, not a screenshot, with proper disclosure [the original recipe - "title of recipe" by Recipes to Nourish]. Copying/pasting the full recipe text to websites or social media is prohibited. If you make significant changes to the recipe or adapt the recipe in any way, please rewrite the recipe in your own unique words and provide a link back here with proper disclosure for credit. Thanks for understanding!
Nutrition Information:
Yield:

12
Serving Size:

1
Amount Per Serving:
Calories:

483
Total Fat:

30g
Saturated Fat:

19g
Trans Fat:

1g
Unsaturated Fat:

8g
Cholesterol:

83mg
Sodium:

366mg
Carbohydrates:

49g
Fiber:

4g
Sugar:

33g
Protein:

6g
This nutritional information was auto-generated based on serving size, number of servings, and typical information for the ingredients listed. To obtain the most accurate representation of the nutritional information in a given recipe, please calculate the nutritional information with the actual ingredients and amounts used, using your preferred nutrition calculator. Under no circumstances shall the this website and the author be responsible for any loss or damage resulting for your reliance on the given nutritional information. You are solely responsible for ensuring that any nutritional information provided is accurate, complete, and useful.

Are you on Pinterest? I pin lots of yummy real food recipes + more there. Come follow along.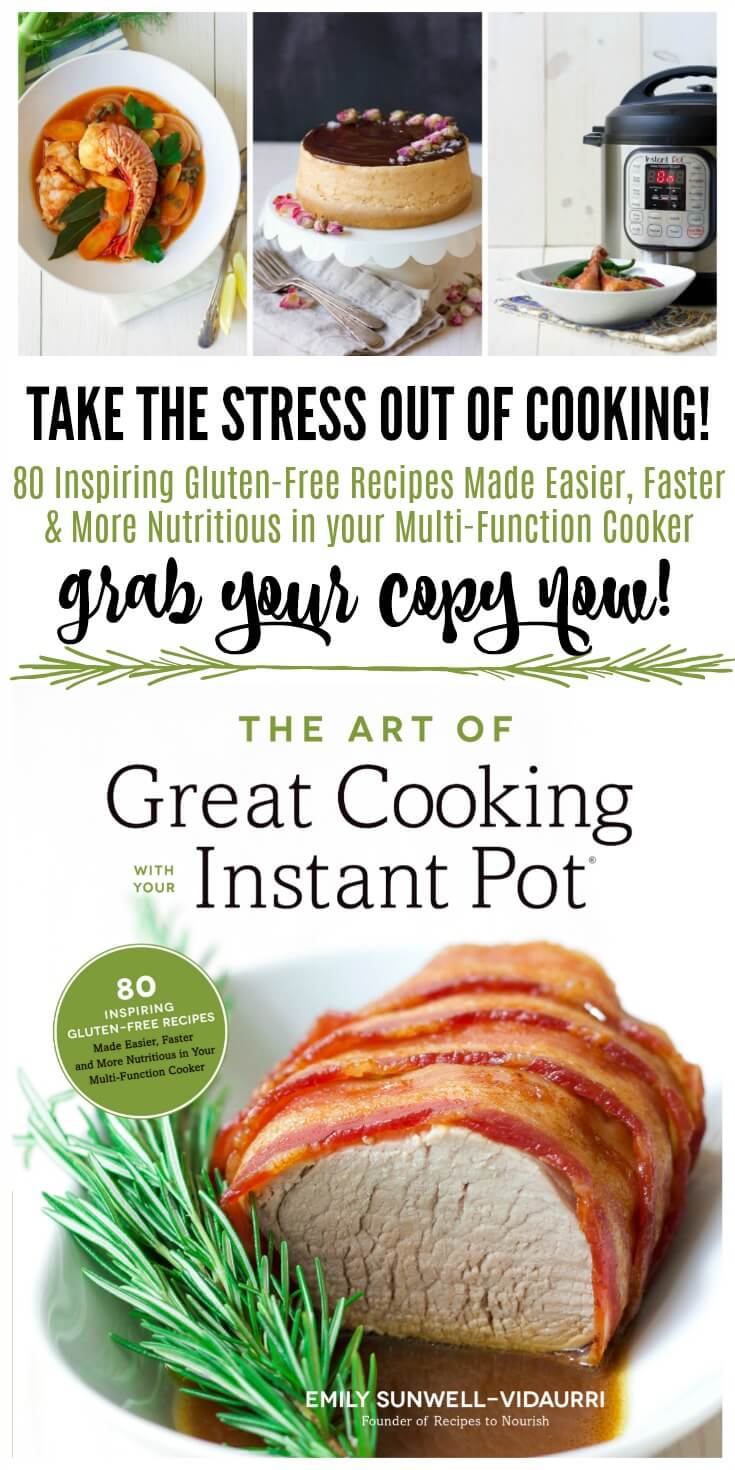 MORE WARMING DRINKS & TOPPINGS YOU MIGHT ENJOY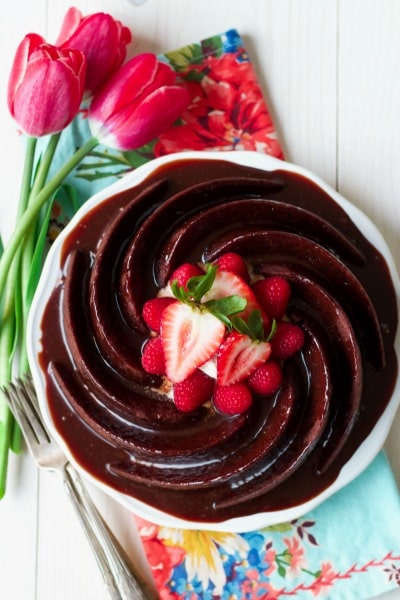 Easy Healthy Grain Free Chocolate Cake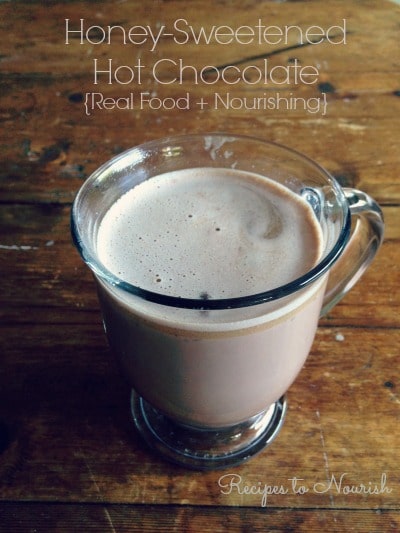 Nourishing Honey Sweetened Hot Chocolate
4 Ingredient Sugar Free Chocolate Caramel Truffles
Homemade Honey Sweetened Cinnamon Marshmallows