Treat yourself to this Matcha Moringa Superfood Smoothie! It's packed with antioxidants, vitamins and nourishing ingredients, plus it's sugar-free, dairy-free and delicious too.
This post is sponsored by Perfect Supplements, all opinions, recipe and photography are my own.
Smoothies are the best, especially when they're packed with superfood ingredients!
I've been a huge smoothie fan for many years. I have loved them ever since I was a kid, but I pretty much only grew up with one kind - orange juice, banana and ice. It was great and I loved it, but I wanted more.
When I was old enough to get my first "real" job outside of babysitting, I got a job working at Jamba Juice - yep, the smoothie place. Like I said, I love smoothies.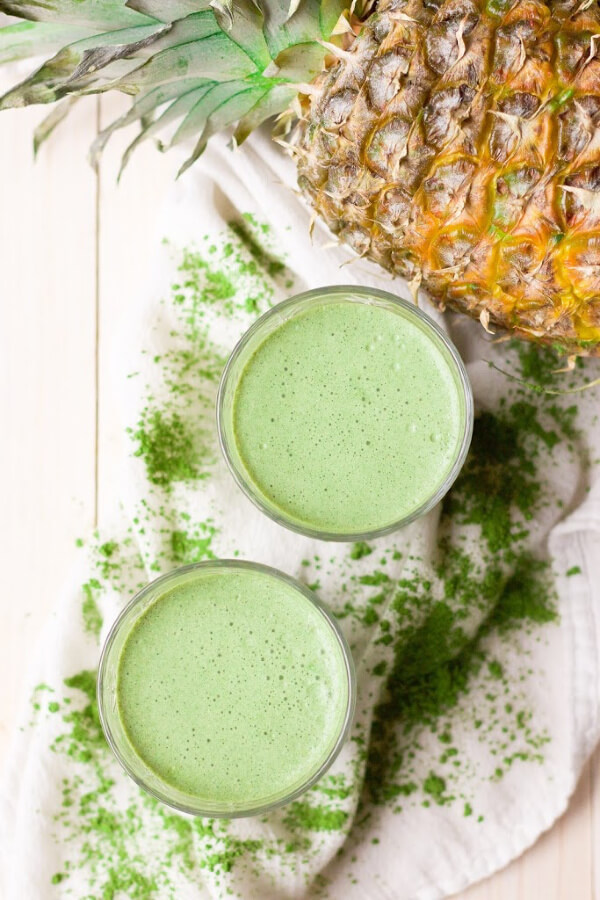 I had smoothies ALL THE TIME in my teen years, usually every single day!
Honestly, my smoothies back then were not the most nutrient packed, nourishing smoothies. They certainly were not organic (hopefully we all know about the EWG's Dirty Dozen Shopper's Guide to Pesticides in Produce™ - if not, please check that out), they were not filled with healthy fats and they were not packed whole food based supplements (only synthetic - yikes!).
Sure those smoothies that I made were good and I loved them then, but now I know what real food is and how to nourish the body in a much healthier way.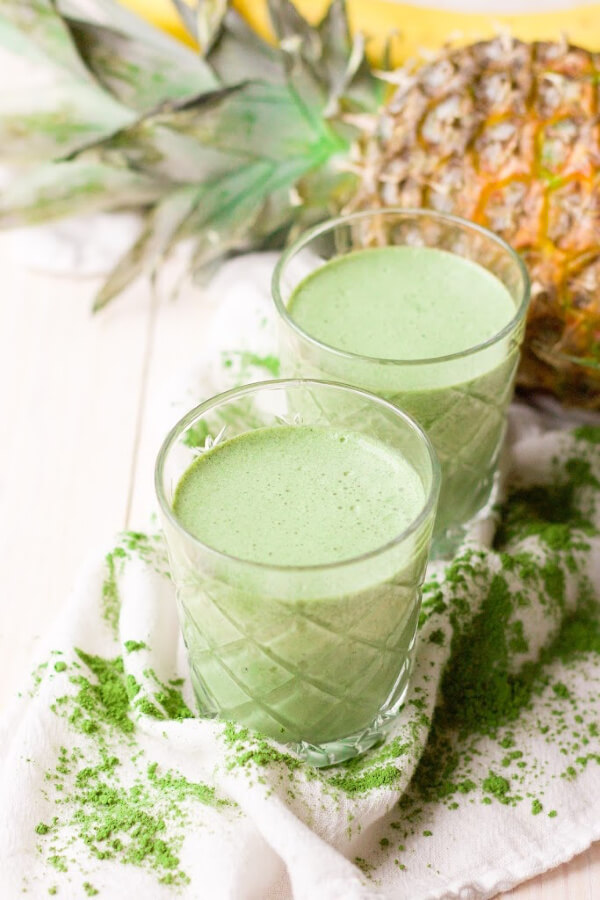 Smoothies can be healthy when packed with superfoods and healthy ingredients!
I don't know about you, but smoothies are usually a meal for me when I have them.
For me this means always adding as much goodness to my smoothies and making sure they're chockfull of my favorite superfoods, gut and joint supporting protein from grass-fed collagen, healthy fats, no sweetener (or very little natural sweetener), organic produce and making sure it's rich in vitamins, minerals and antioxidants.
This Matcha Moringa Superfood Smoothie is packed with all of that antioxidant and vitamin rich goodness from organic matcha and organic moringa PLUS gut, bone, joint, muscle and metabolism supporting grass-fed collagen.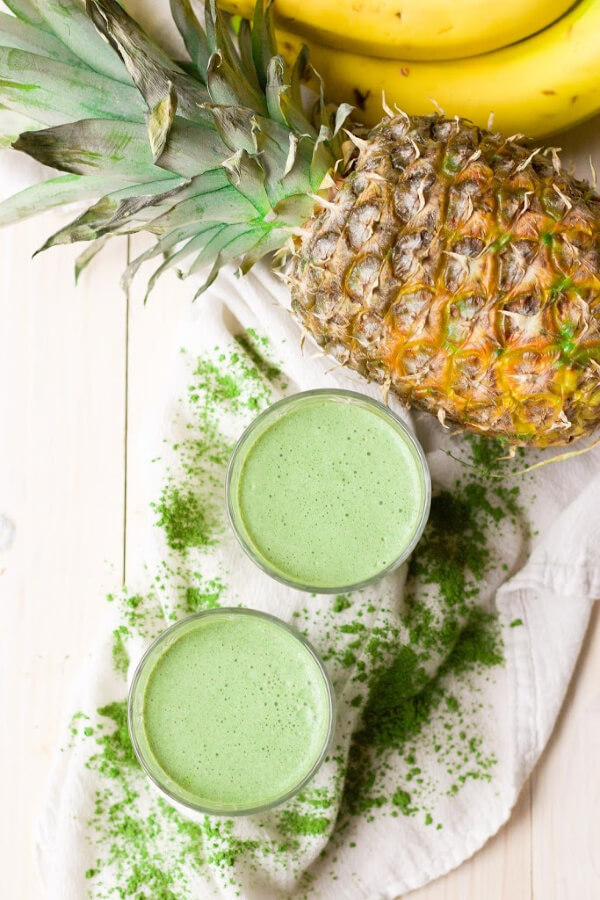 Quality matters when it comes to organic matcha and organic moringa.
Let me introduce you to my favorite quality source, Perfect Matchinga™!
This green superfood is loaded with antioxidants, vitamins, minerals and essential amino acids.
Perfect Supplements - hands down my favorite whole food based supplement company, starts with organic Japanese matcha and adds organic moringa, one of the most nutrient dense plants on the planet. These two powerhouses combined make an energy boosting, nutritious green powder that is loaded with antioxidants, iron, calcium, vitamins, minerals and all the essential amino acids. (source)
It's known to increase energy levels.
Can help enhance and boost mood.
Known to help aid detoxing chemicals and heavy metals from the body.
Naturally boosts metabolism.
Provides calm, focused energy - it contains just 28mg of all natural caffeine per serving (a cup of coffee has way more, about 100mg); the natural L-theanine in Perfect Matchinga™ ensures that you get energy and focus, without the jitters and crash normally associated with coffee and/or caffeine.
The organic matcha in Perfect Matchinga™ has a much higher nutritional profile than green tea, it's bursting with antioxidants, amino acids, vitamins and nutrients. Plus it's a whole food - hand picked leaves with the stems and veins removed, ground into a fine powder.
It's organic, fairly traded, sustainably sourced, rigourssly tested and certified, non-GMO certified, gluten-free certified, soy-free, dairy-free, vegan and Paleo. (source)
17x the antioxidants of wild blueberries
10x the nutritional potency of green tea
9x the calcium of milk
7x the protein of yogurt
6x the iron of spinach
48x vitamin B2 of kale
4x the potassium of bananas
3x the vitamin A of carrots
50% more vitamin C than oranges
ALL 9 essential amino acids (source)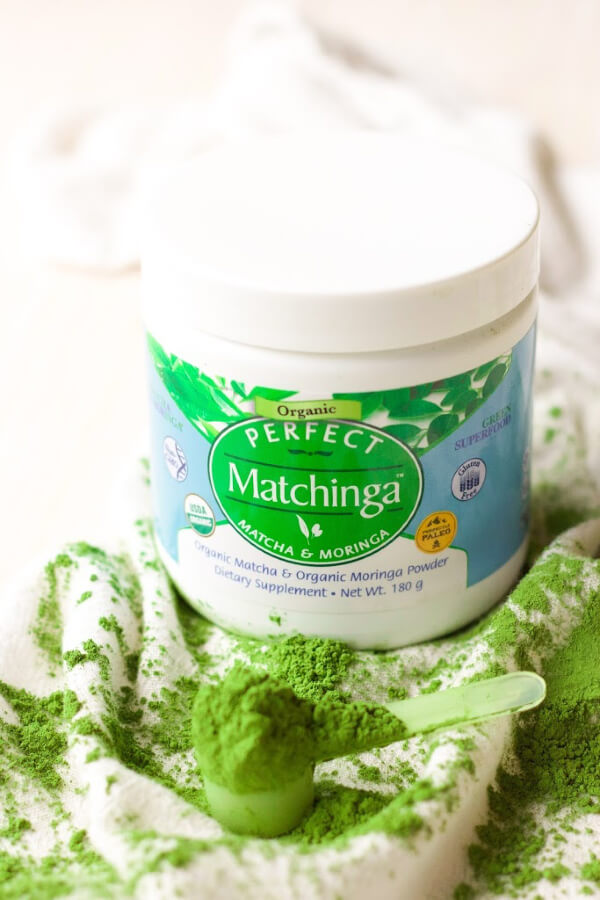 What does matcha mixed with moringa taste like?
It tastes great! Let me explain.
If you live on this planet, you know that matcha is all the rage right now. People go crazy for matcha tea and matcha lattes that have that "green tea" tasting flavor.
Matcha has an aromatic, vibrant, astringent, sweet grassy flavor.
Moringa is known for tasting like matcha, but with more of that "green" slightly sweet and slight bitter flavor - in a good way. If you're interested in detailed resource to learn more about moringa tea, my friend Hannah has a great post about the benefits.
Combine the two together and you have the most delicious, smooth tasting Perfect Matchinga™ blend that you can add to smoothies like this Matcha Moringa Superfood Smoothie.
You can also add it to warming drinks, mix it into vanilla or plain yogurt, make homemade ice cream with it (just mix it into a homemade vanilla ice cream and you're good to go) or simply put some in filtered water and down the hatch it goes.
You can even mix it into pancakes or waffles, baked goods, or turn it into an extra fancy, beautifully green, sweet treat like vanilla matchinga buttercream or dairy-free frosting!
Chew your smoothies! It's so important!
You're probably thinking what in the world is she talking about. How can I chew a smoothie? I know that it sounds weird, but it actually helps support your digestion!
The movement of your mouth kind of tricks your body and helps produce digestive enzymes that your saliva contains.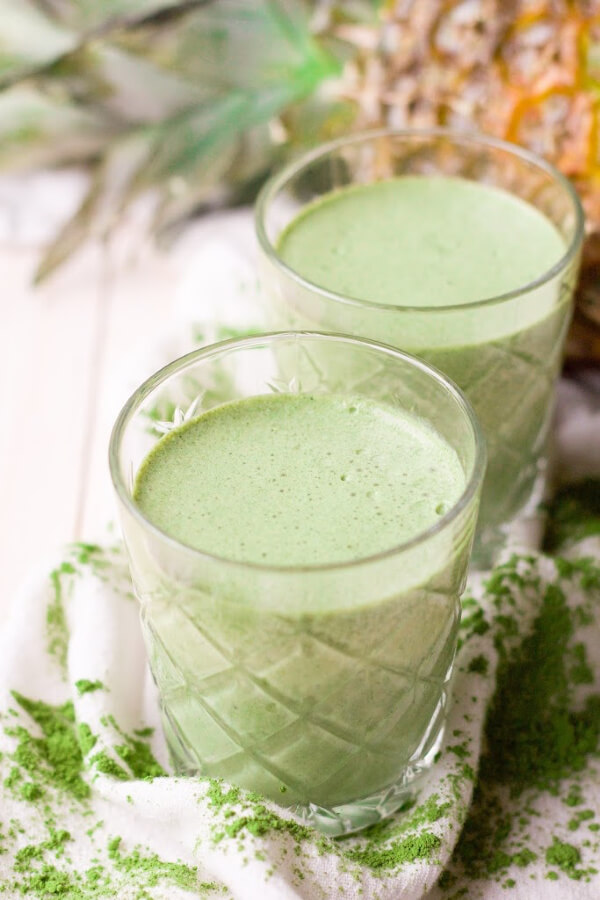 The longer your "chew" your smoothie or even kind of swish it around in your mouth, the more time these enzymes have to start breaking down the smoothie, which makes digestion easier.
If you still don't want to try chewing your smoothie, or you just think you'll forget, try adding some healthier toppings to your smoothie instead (like diced fresh or dried fruit, gluten-free or grain-free granola, coconut flakes, hemp seeds, sprouted chopped nuts, stevia-sweetened chocolate chips, etc.).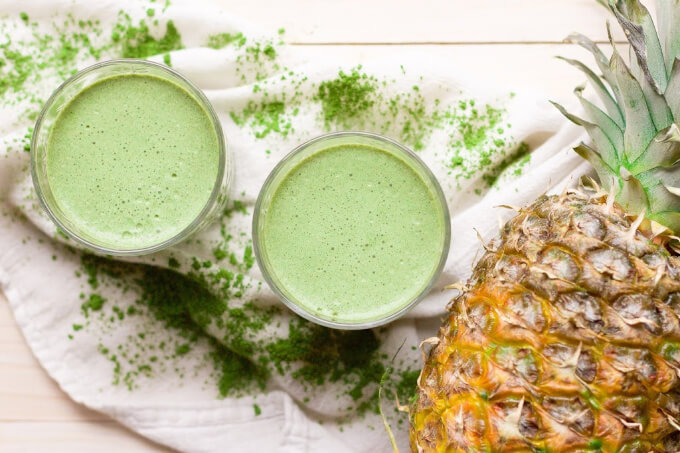 If you're going to drink your breakfast or drink a snack, make that nutrition count with this nourishing Matcha Morning Superfood Smoothie.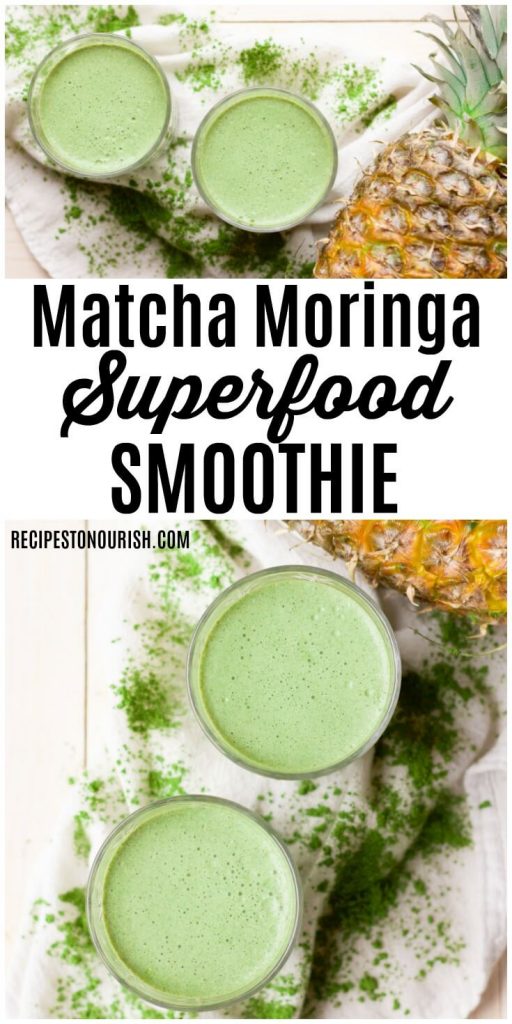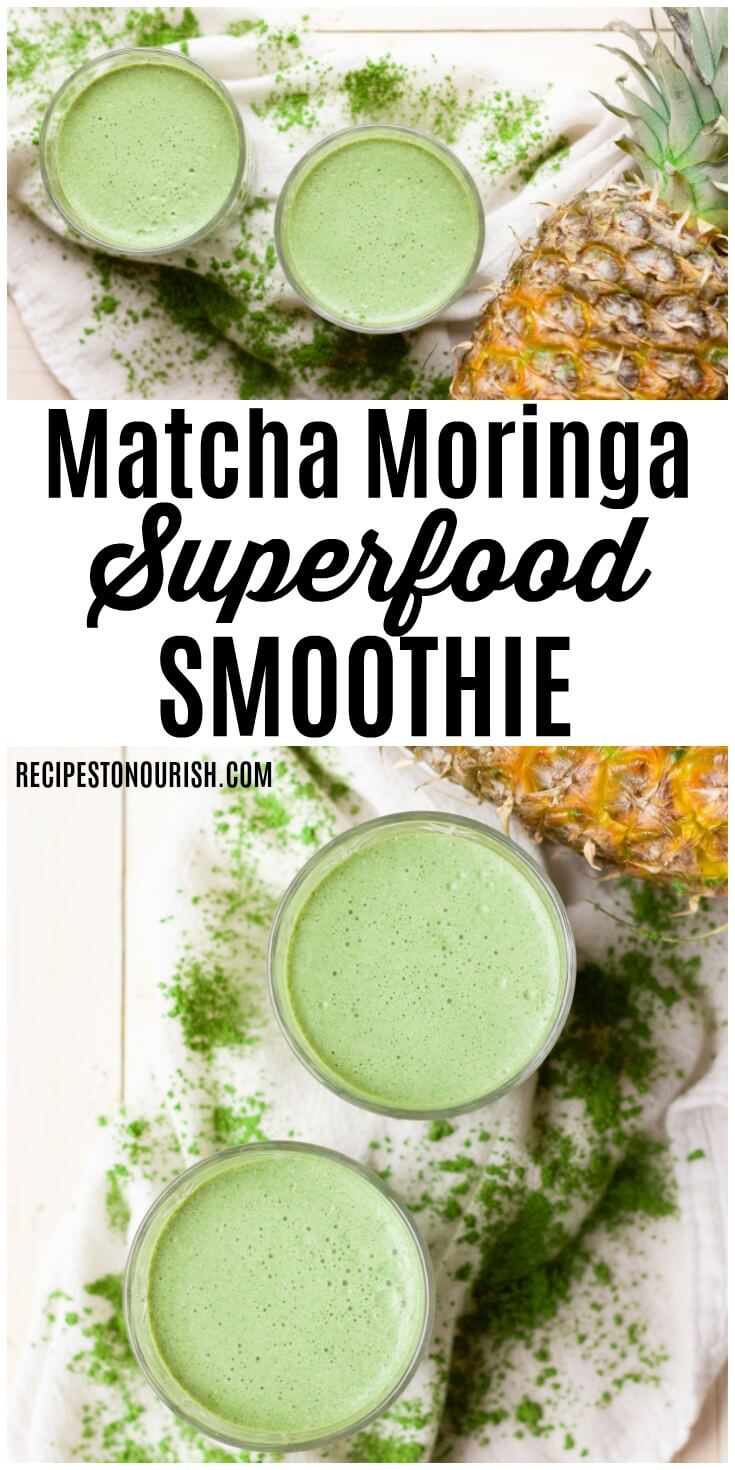 Matcha Moringa Superfood Smoothie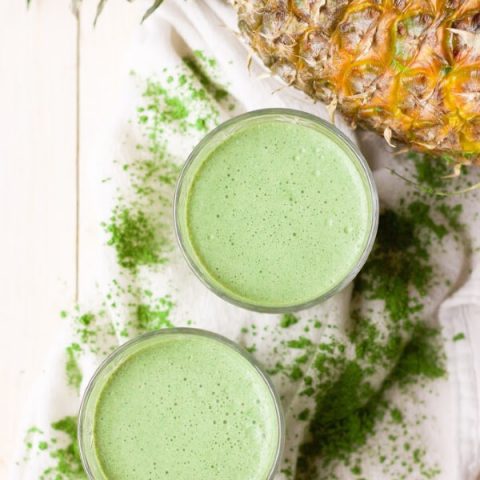 Matcha Moringa Superfood Smoothie
Treat yourself to this Matcha Moringa Superfood Smoothie! It's packed with antioxidants, vitamins and nourishing ingredients, plus it's sugar-free, dairy-free and delicious too.
Instructions
Add all ingredients to a high powered blender.
Blend until smoothie is thick and fully combined.
Serve immediately. Enjoy!
Notes
I only recommend using a quality grass-fed collagen. Knowing the source and where the collagen comes from is very important. My favorite brand is Perfect Supplements Hydrolyzed Collagen. I am so impressed with the quality of their collagen + they're the only company on the market that I know of that is 100% pesticide free and has proof of purity.
BONUS: I have a 10% OFF your entire order coupon code for Perfect Supplement brand products, just for Recipes to Nourish readers! Follow the link here and enter NOURISH10 at checkout.
Tip: I highly recommend serving smoothies with reusable straws, ditch those plastic ones please! (See below for the ones I love.)
Sweetener: If you prefer a sweeter smoothie, add 1 teaspoon up to 1 tablespoon of raw honey or maple syrup. You can also add 1-2 Medjool dates for a natural sweetener, just make sure to remove the pits first.
As mentioned in the post, this smoothie will contain some naturally occurring caffeine. As always, if you're pregnant or nursing, make sure to consult with your healthcare provider to make sure any supplement is right for you.
The photographs of this recipe, recipe and all content above are copyright protected. Please do not use my photos without prior written permission. If you choose to share this recipe, please feel free to share by using proper etiquette and providing a link back to my original recipe on my blog, not a screenshot, with proper disclosure [the original recipe - "title of recipe" by Recipes to Nourish]. Copying/pasting the full recipe text to websites or social media is prohibited. If you make significant changes to the recipe or adapt the recipe in any way, please rewrite the recipe in your own unique words and provide a link back here with proper disclosure for credit. Thanks for understanding!
Nutrition Information:
Yield:

3
Serving Size:

1.5 cups
Amount Per Serving:
Calories:

443
Total Fat:

23g
Saturated Fat:

16g
Trans Fat:

0g
Unsaturated Fat:

5g
Cholesterol:

10mg
Sodium:

593mg
Carbohydrates:

61g
Fiber:

5g
Sugar:

48g
Protein:

7g
This nutritional information was auto-generated based on serving size, number of servings, and typical information for the ingredients listed. To obtain the most accurate representation of the nutritional information in a given recipe, please calculate the nutritional information with the actual ingredients and amounts used, using your preferred nutrition calculator. Under no circumstances shall the this website and the author be responsible for any loss or damage resulting for your reliance on the given nutritional information. You are solely responsible for ensuring that any nutritional information provided is accurate, complete, and useful.
Are you on Pinterest? I pin lots of yummy real food recipes + more there. I have a board just for Snacks + Small Bites & Beverage Recipes too! Come follow along.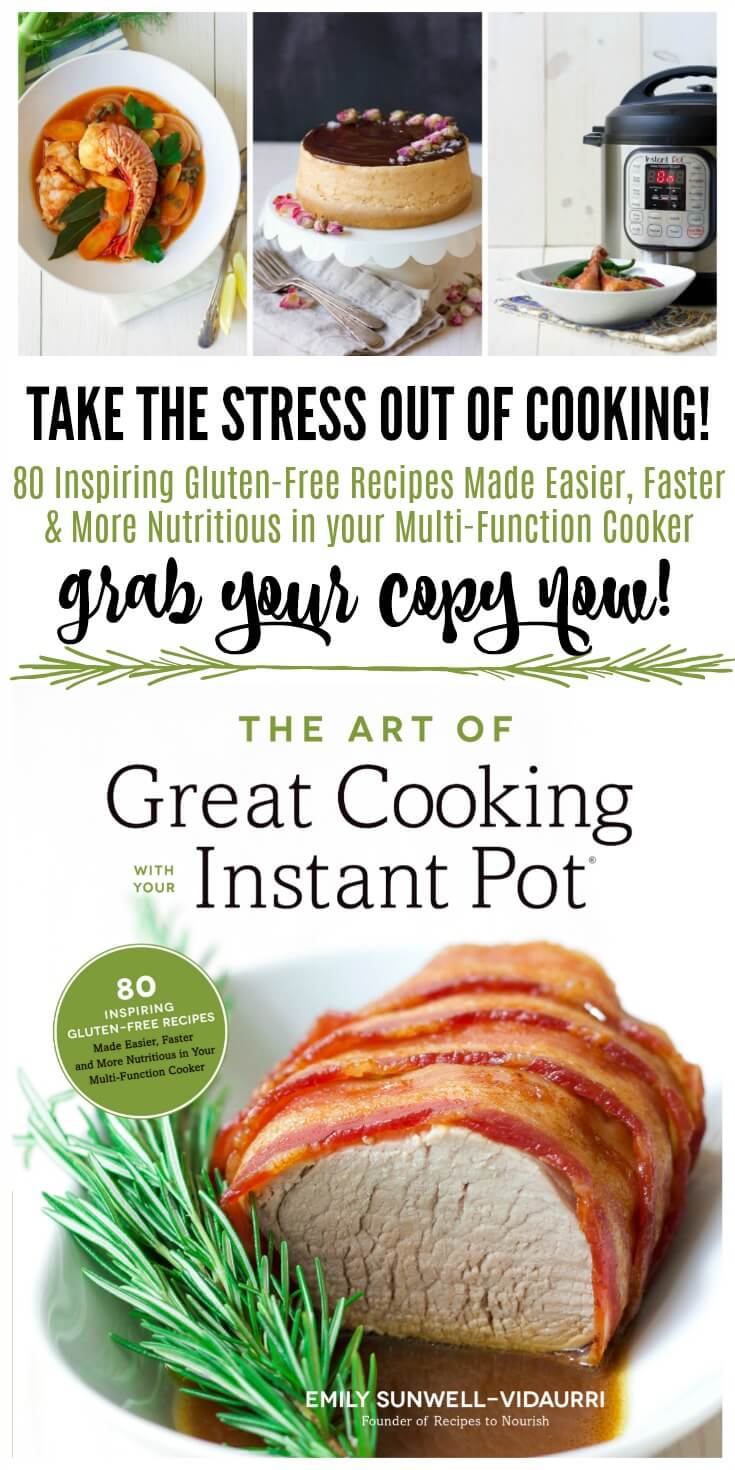 MORE RECIPES YOU MIGHT ENJOY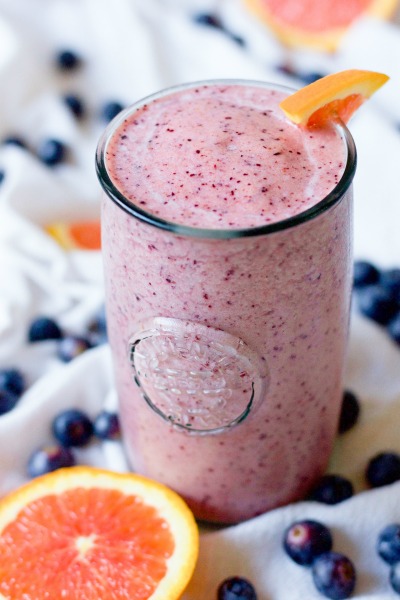 Antioxidant Blueberry Orange Smoothie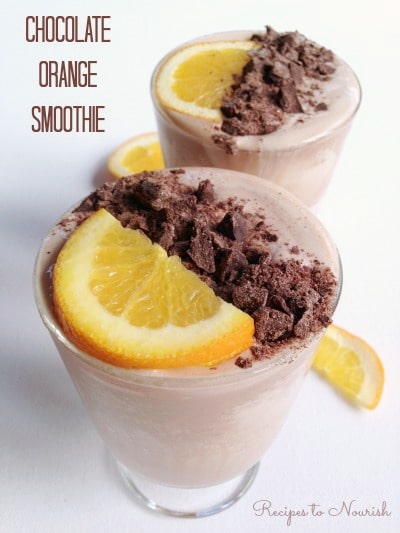 Healthy Chocolate Orange Smoothie
High Protein Golden Milk Smoothie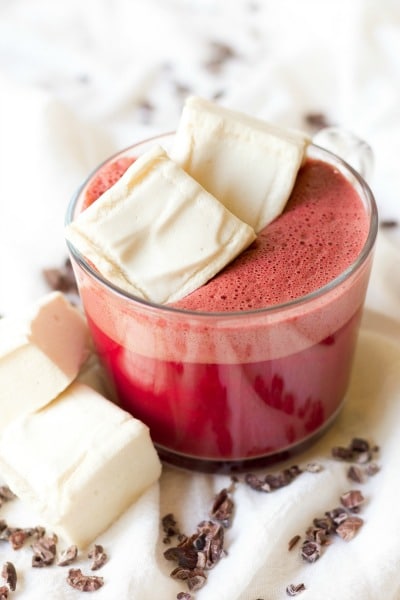 Healthy Sweet Beet Hot Chocolate
Garlic Rosemary Roasted Cabbage Steaks with Chimichurri
Hydrolyzed Collagen, Coconut Oil, Liver Detox Support, Ancient Minerals + more!
Disclaimer: ALL information you read on Recipes to Nourish is purely for informational and educational purposes only. I love to share and share with love, but I am not a health care practitioner. Information is not intended to treat, cure or prevent any disease. Statements within this site have not been approved by the FDA, meaning information and statements regarding health claims on this blog have not been evaluated by the Food and Drug Administration. All blog posts are solely my personal experiences and opinions and should not be interpreted as an attempt to offer a medical opinion. If you have questions about food, diet, nutrition, natural remedies or holistic health, please do your own research and consult with your health care practitioner. For more information please see all of my disclaimers and disclosures.