Bacon Wrapped Cheese Stuffed Dates are the most delicious small bites. They're the perfect real food snack to enjoy with someone you love.
Salty quality bacon paired with cream cheese and sweet Medjool dates is one truly special appetizer.
Bacon wrapped cheese stuffed dates are probably one of my favorite appetizers ever. They. Are. So. Good.
They're the perfect combo of crispy, bacon goodness paired with gooey, cheesy, creamy and sweet.
The dates almost taste like caramel and they're absolutely amazing with the bacon and cream cheese.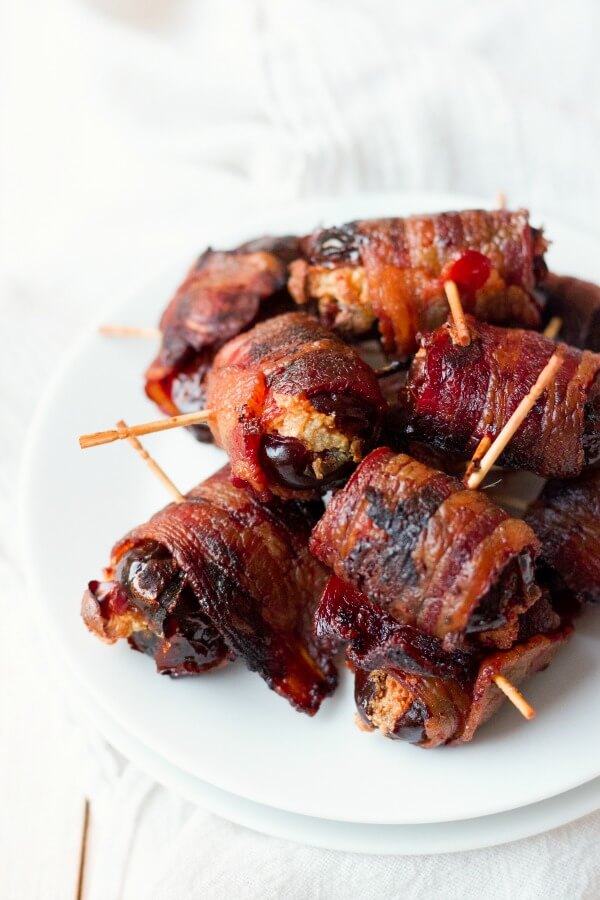 These babies are almost like a sweet treat because they have that beautiful sweet and salty thing going on. Yet they're still savory enough to feel like a hearty, decadent snack.
Be warned though, you're going to want to make lots of these. I often double up the batch because my husband and I love them so much.
I started making these as a date night snack for me and my husband. Then they became a Valentine's Day appetizer for us.
We both love them so much that they ended up turning into a game day snack too!
I am NOT a sports person, but my husband is big time - especially when it comes to football and baseball. I love him, so I enjoy making fun food for him on game day.
I usually alternate between these bacon wrapped cheese stuffed dates and sweet and spicy stuffed bacon wrapped dates.
When making the spicier stuffed dates, I like to make something to cool our mouth's off with and my go-to is always real food orange creamsicle smoothies. It might sound like an odd combo, but it's super yummy and we really love both together.
When making these bacon wrapped cheese stuffed dates I highly recommend using a quality bacon - preferably organic or a pasture raised bacon. You can even use organic turkey bacon if you'd like, and we have, but my favorite for these is traditional bacon.
Medjool dates are pretty easy to find these days. Pretty much every grocery store carries them with their dried fruits. Natural food stores are almost a sure bet when looking for them. Even some wholesale markets carry them now too! Of course, if you can't find them locally, you can easily find them online.
With the cream cheese, try to use a quality brand too - because it will taste better. There's even a great organic lactose free cream cheese brand available at most natural food stores if lactose is an issue. If dairy is food you have to avoid, you can easily substitute with a quality dairy-free soy-free cream cheese.
These bacon wrapped cheese stuffed dates are the perfect appetizer for holiday parties, game day, dinner parties or for a special dinner date night for two with your honey on Valentine's Day.
Bacon Wrapped Cheese Stuffed Dates
Bacon Wrapped Cheese Stuffed Dates
Yield:
16 bacon wrapped stuffed dates
Bacon Wrapped Cheese Stuffed Dates are the most delicious small bites. They're the perfect real food snack to enjoy with someone you love.
Ingredients
16 organic Medjool dates – pitted (buy pitted or remove pit during prep)
¼ cup organic cream cheese, softened
¼ teaspoon sea salt (<-- this is my favorite sea salt)
¼ teaspoon ground cinnamon – optional
8 pastured or organic bacon slices, cut in half
Instructions
Preheat oven to 400 degrees F.
Prep dates – open up dates carefully with a paring knife, cut 2 lengthwise slits in the dates, making sure not to cut all the way through the date, remove small piece of date (save to snack on), remove pit if necessary.
In a small bowl, mix the cream cheese, sea salt and optional cinnamon. Stuff dates with about ½ teaspoon (or more if you like overstuffed dates like my husband and I do) of the cheese mixture.
Tightly wrap each cheese stuffed date with ½ slice of bacon. Secure with toothpick.
Place bacon wrapped dates seam side down on baking pan. Place baking pan in oven, set timer for 10 minutes. At 10 minutes, use tongs to flip each bacon wrapped date. PLEASE USE CAUTION, the bacon grease is very hot, use an oven mitt to protect your hand/arm. Set timer for another 10 minutes. Bacon is done when it "looks" crispy and is dark golden brown. Watch the bacon closely, all ovens cook differently, you don't want the bacon to burn. You should be able to tell at the 10-minute mark about how much longer you will need to cook the bacon. If you're not sure, just keep an eye on them. You may need a few more minutes after the 20 minute mark to crisp the bacon enough.
Serve warm or at room temperature. Make sure to wait a couple of minutes before taking a bite, they are super HOT when they come out of the oven.
Notes
Equipment: Toothpicks, Large Baking Pan/Sheet (I use Stoneware), Cutting Board, Small Paring Knife, Small Bowl, Kitchen Tongs
You will need 16 toothpicks. I have made these without toothpicks, but I find it's easiest with toothpicks.
Nutrition Information:
Yield:

16
Serving Size:

1 bacon wrapped date
Amount Per Serving:
Calories:

79
Total Fat:

1g
Saturated Fat:

1g
Trans Fat:

0g
Unsaturated Fat:

0g
Cholesterol:

4mg
Sodium:

12mg
Carbohydrates:

18g
Fiber:

2g
Sugar:

16g
Protein:

1g
This nutritional information was auto-generated based on serving size, number of servings, and typical information for the ingredients listed. To obtain the most accurate representation of the nutritional information in a given recipe, please calculate the nutritional information with the actual ingredients and amounts used, using your preferred nutrition calculator. Under no circumstances shall the this website and the author be responsible for any loss or damage resulting for your reliance on the given nutritional information. You are solely responsible for ensuring that any nutritional information provided is accurate, complete, and useful.
Are you on Pinterest? I pin lots of yummy real food recipes + more there. I have a board just for Snacks + Small Bites too! Come follow along.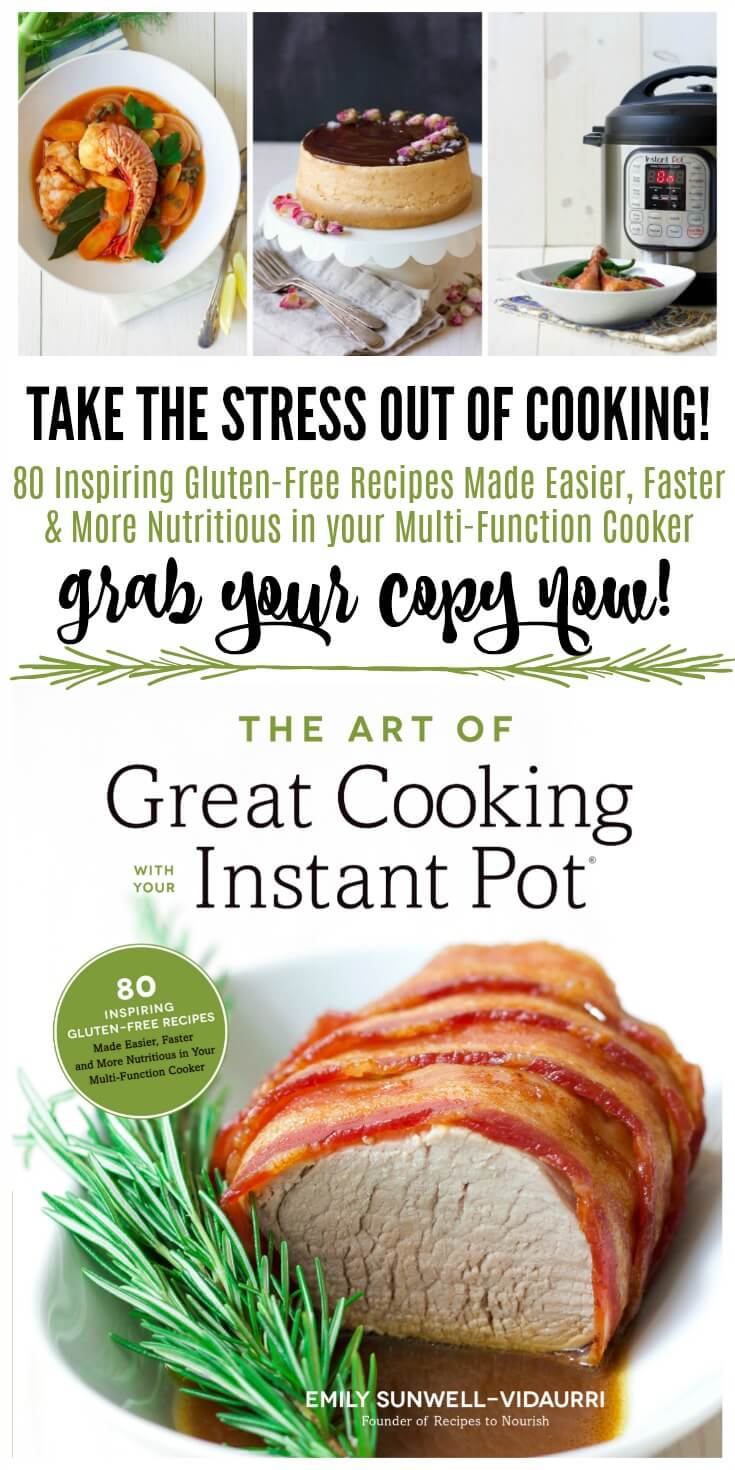 MORE RECIPES YOU MIGHT ENJOY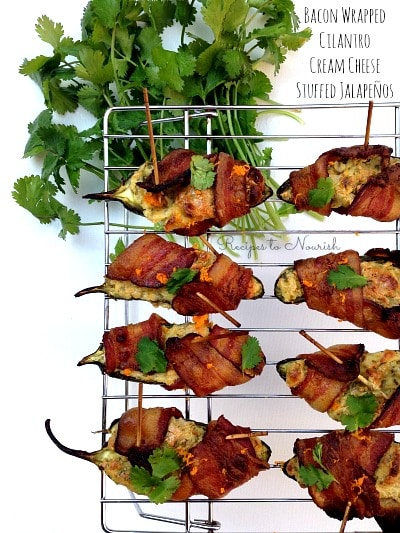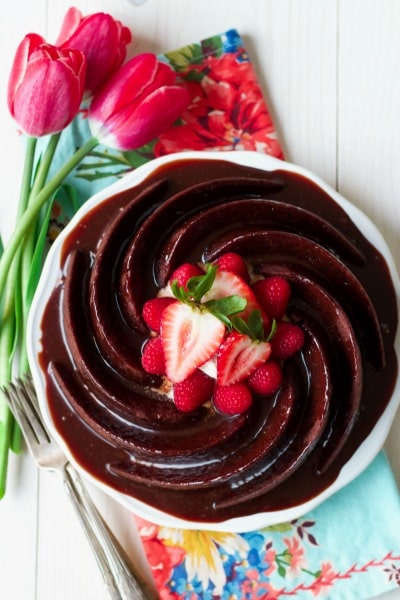 Grass-fed Collagen, Coconut Oil, Liver Detox Support, Ancient Minerals + more!
SaveSave
SaveSave
SaveSave