Smooth Chocolate Chia Pudding is so delicious and rich, super creamy, perfectly smooth without little seeds to bite and only takes minutes to make!
I love all things homemade pudding and in all variations.
Everything from chocolate pudding, vanilla pudding, lemon curd, lime curd, chocolate, vanilla or lemon custard, yep ... I love them all!
I do enjoy the constant stirring that goes along with making homemade pudding. I find that it's kind of soothing and therapeutic because it forces your to slow down and focus. But honestly, I don't always have that kind of time or the patience to throw some together.
With two hungry kids, work to do, household chores, never-ending laundry and dishes ... you get the picture ... 20 to 30 minutes of prep time and hours of chilling is just not practical.
Pudding that's ready in minutes!
Usually when I get a craving for pudding, I want the pudding right away. And I don't have lots of time to be hanging out in the kitchen.
And then there's the kids. How many times in a day do I hear them say, "I'm hungry" ... when I just fed them a full meal. Anyone else have growing, constantly hungry kids? I have a feeling I'm not the only one.
Well, during those times I'm always looking for quick, healthy snacks that are nutrient dense and will help curb hunger too. Mention the word special treat ... lots of mommy bonus points for me.
What my kids don't know is I'm really making some mommy fuel for me. I need to eat and be nourished too. I'm not always the best at remembering self care is important and taking care of me first is okay too. So, that just means mommy gets a big bowl of pudding and the kiddos get their little bowls ... and they're happy.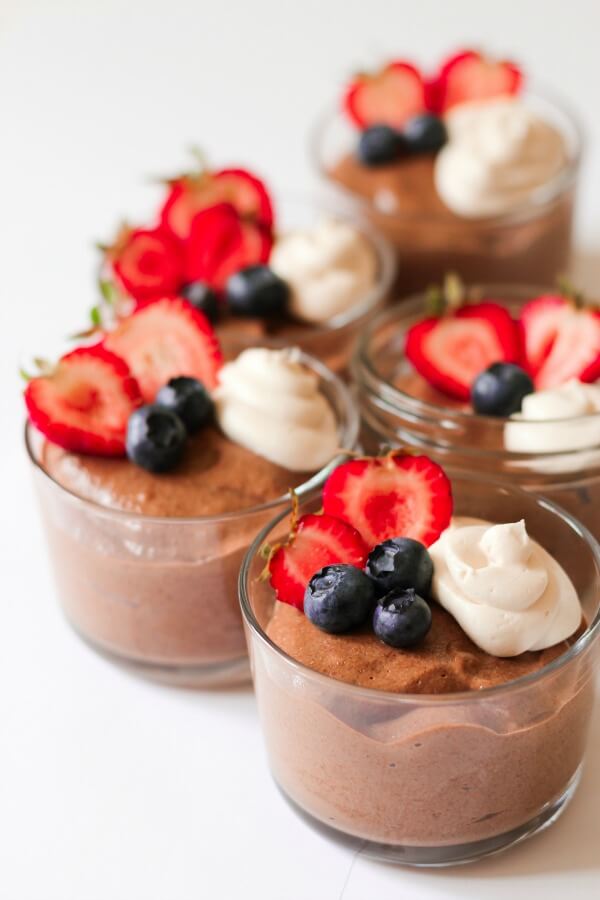 Back to the pudding ... when I'm pinched on time, making Smooth Chocolate Chia Pudding is always the answer!
Smooth chocolate chia pudding is so easy to make!
I have to be honest, the texture of regular chia pudding is not my favorite. My kiddos don't care for it either, especially my oldest. The answer to this problem is grinding up those little seeds in the blender!
Blending up the chia seed pudding makes a super smooth, creamy finish plus it's ready in no time!
Of course, if you prefer the pudding super cold, you're going to have to chill it first. But otherwise, go ahead and dig in right away because this pudding in done in minutes!
So get yourself some chia seeds and whip up some pudding. You'll have a nourishing pudding full of omega 3 fatty acids, protein, fiber and sweet, yummy goodness in no time.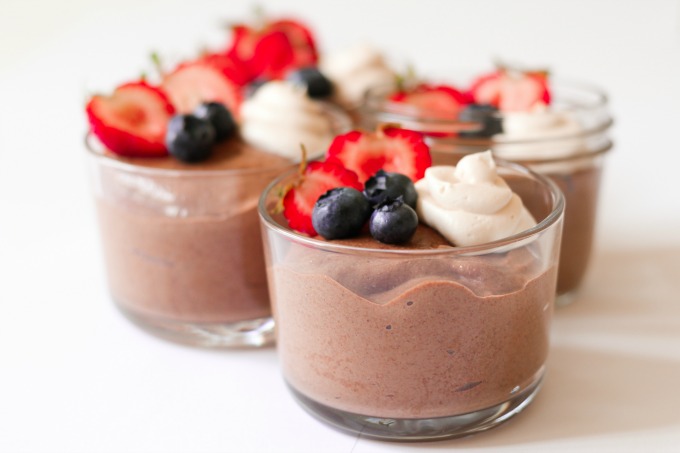 Smooth Chocolate Chia Pudding
Smooth Chocolate Chia Pudding
Smooth Chocolate Chia Pudding is so delicious and rich, super creamy, perfectly smooth without little seeds to bite and only takes minutes to make!
Instructions
Add all ingredients to a high-powered blender. Blend until very smooth, about 1-2 minutes, scraping down the sides as needed.
Pour pudding into small glass bowls and allow to chill in the refrigerator or enjoy immediately.
For an extra special treat, top pudding with fresh diced fruit like berries or bananas and homemade whipped cream.
Notes
YOU WILL NEED: Blender
Storage: Keep in an airtight container in the refrigerator for up to 3 days.
Nutrition Information:
Yield:

6
Serving Size:

1
Amount Per Serving:
Calories:

460
Total Fat:

20g
Saturated Fat:

9g
Trans Fat:

0g
Unsaturated Fat:

10g
Cholesterol:

3mg
Sodium:

122mg
Carbohydrates:

68g
Fiber:

13g
Sugar:

46g
Protein:

9g
This nutritional information was auto-generated based on serving size, number of servings, and typical information for the ingredients listed. To obtain the most accurate representation of the nutritional information in a given recipe, please calculate the nutritional information with the actual ingredients and amounts used, using your preferred nutrition calculator. Under no circumstances shall the this website and the author be responsible for any loss or damage resulting for your reliance on the given nutritional information. You are solely responsible for ensuring that any nutritional information provided is accurate, complete, and useful.
Are you on Pinterest? I pin lots of yummy real food recipes + more there. I have a board just for Snacks & Small Bites and Gluten Free Treats too! Come follow along.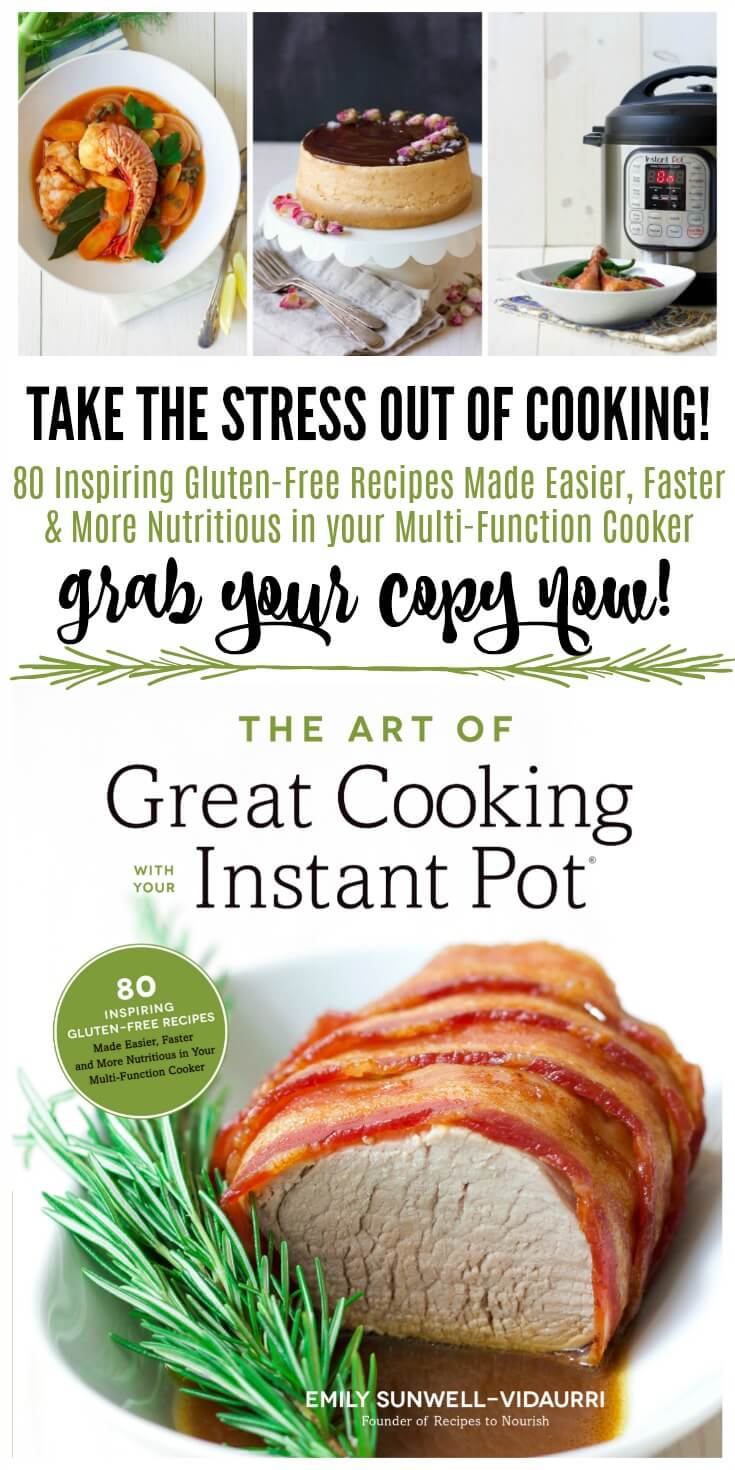 MORE RECIPES YOU MIGHT ENJOY
5 Minute Healthy Instant Pot Chocolate Pudding
4 Ingredient Sugar Free Chocolate Caramel Truffles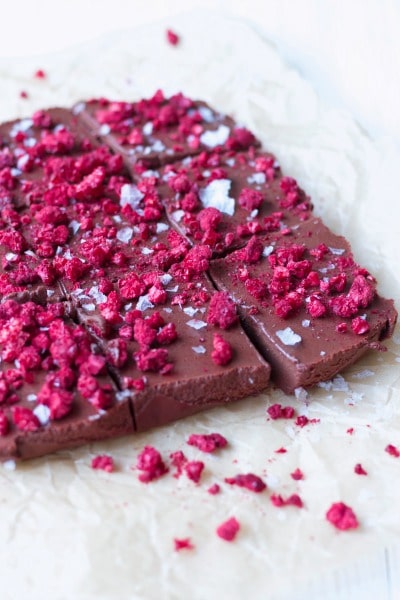 Easy Raspberry Chocolate Freezer Fudge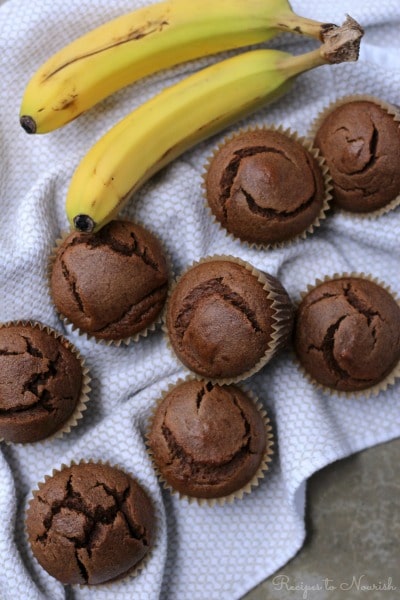 Grain Free Chocolate Banana Muffins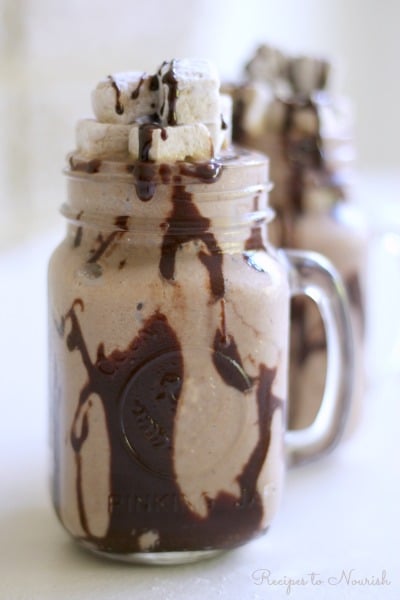 Grass-fed Collagen, Desiccated Liver, Coconut Oil, Liver Detox Support, Ancient Minerals + more!
SaveSave
SaveSave