These Easy Gluten Free Apple Cinnamon Scones are a special breakfast treat! They're so easy to make, soft and tender and perfect for weekend brunches.
Breakfast scones are so easy to make.
There's nothing more comforting and special than a freshly made breakfast warm out of the oven. These easy gluten free apple cinnamon scones are so delicious and perfect for sharing with those you love, plus they're great for seasonal holidays and weekend breakfasts or brunch.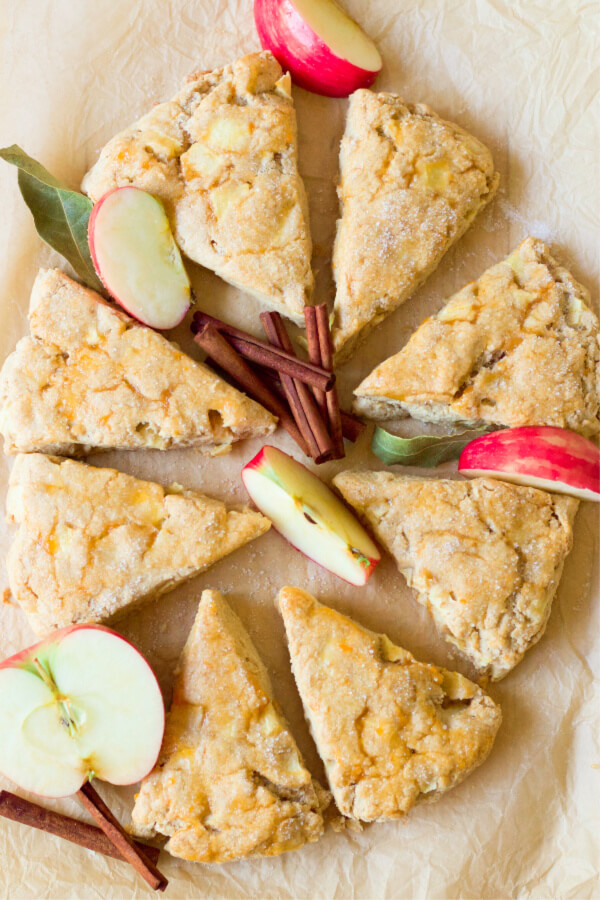 With fall here, apple cinnamon or apple spice everything is in full swing.
People are heading to U-Pick apple orchards to pick apples or if you live in Northern California like I do, most people are headed to Apple Hill. For many families, enjoying the apple harvest season in one way or another is a fun seasonal tradition.
If you don't have a U-Pick apple orchard near you, head to your local farmers market or natural food store. Most are packed with beautiful apples and several different varieties right now.
Hands down my favorite apple is Honey Crisp and I look forward to them each season. I'm always trying to come up with new ways to bake with them or cook with them - like homemade spiced apple cider, homemade applesauce or pear applesauce, apple pear fennel crisp and savory things like breakfast maple apple chicken sausages.
When I started this blog over 7 years ago, the recipes I shared were strictly gluten free. And they still are! But over the years a lot of my baked goods recipes have mostly been grain free.
This is because diet lifestyles fluctuate over time and for the most part, I have lived grain free for many years. As I'm learning more about nutrition, I feel more comfortable with listening to my body - intuitive eating with less fear around restriction of foods is where I'm at.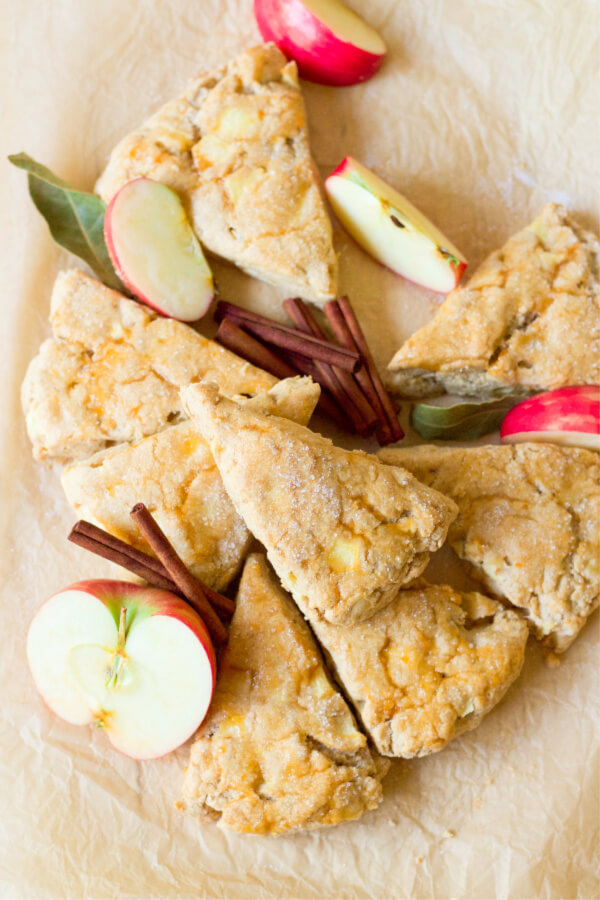 For me, where I'm at right now, I'm okay with eating gluten free grains. I'm pregnant and have had such a rough bout with constant nausea and food aversions that I just can't limit my diet. I need to eat what I can right now, and I am totally okay with that.
While I do have lots of readers who mostly eat grain free or Paleo, I still have tons of readers who eat gluten free. So I figured it was time to share a gluten free baked good again.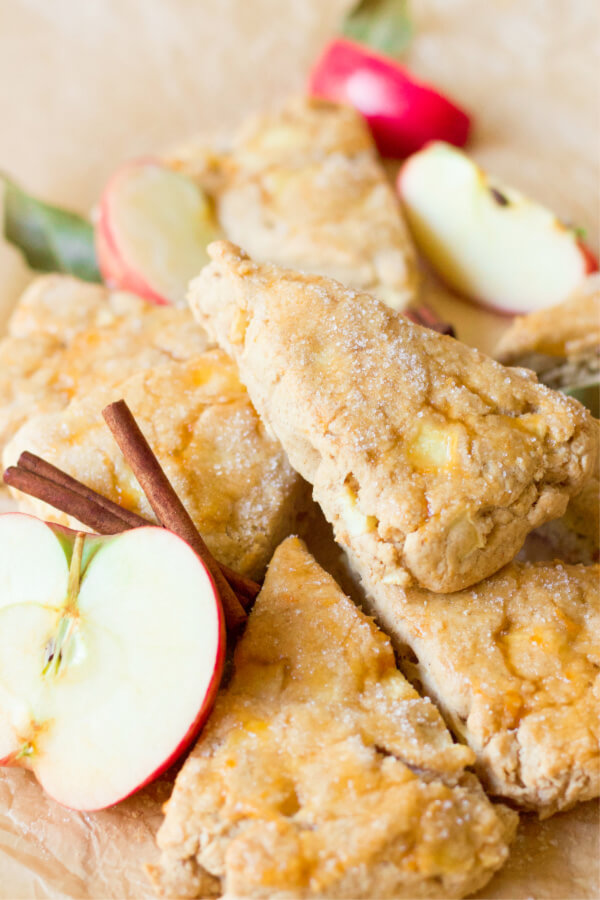 All-purpose gluten free flours make gluten free baking so much easier.
The thing about gluten free baking is you usually can't just use one flour and expect your baked good to come out perfect. Most likely, it's going to crumble and fall apart.
A blend of gluten free flours and usually at least one starch is always best and makes for a better end result. There are lots of gluten free flour blends on the market these days. When I first went gluten free many years ago there were very few.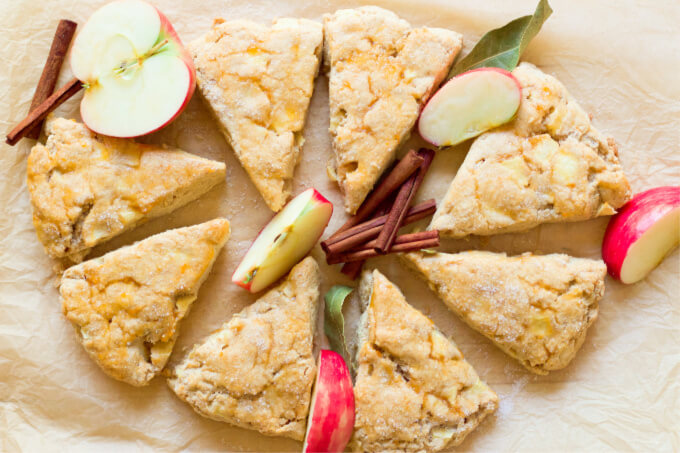 There are two gluten free flour blends that I like to use - this one that's made with non-GMO ingredients and is a blend of 3 flours and 2 starches (potato and corn) and this one that's organic (it comes in a non-organic version too) and is also made with a blend of 3 flours and 2 different starches (tapioca and arrowroot).
Both brands are usually easy to find at most natural food stores, I've even heard some people mention that they can find them at their local Costco (all Costco's stock different products, so make sure to check with your local store first). If those options are not available to you, they are very easy to purchase online.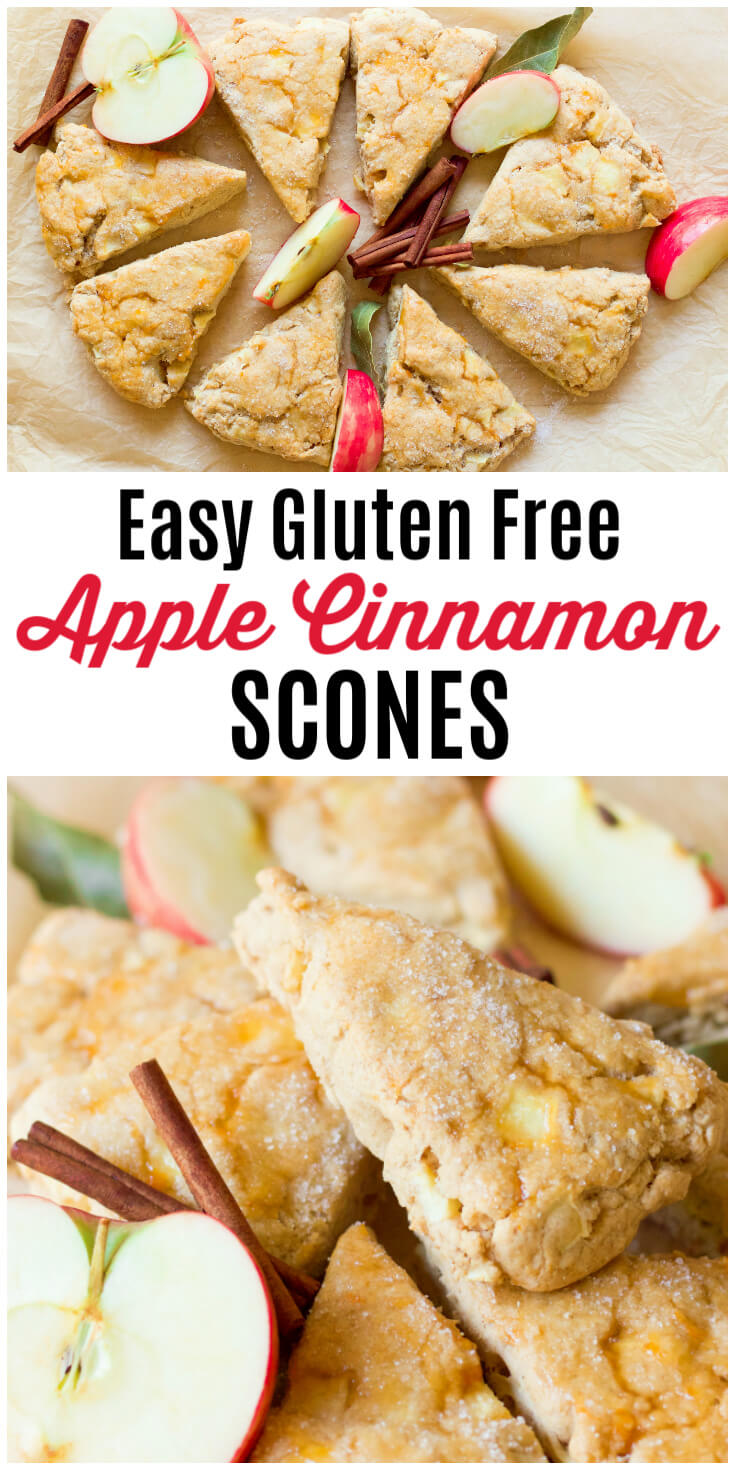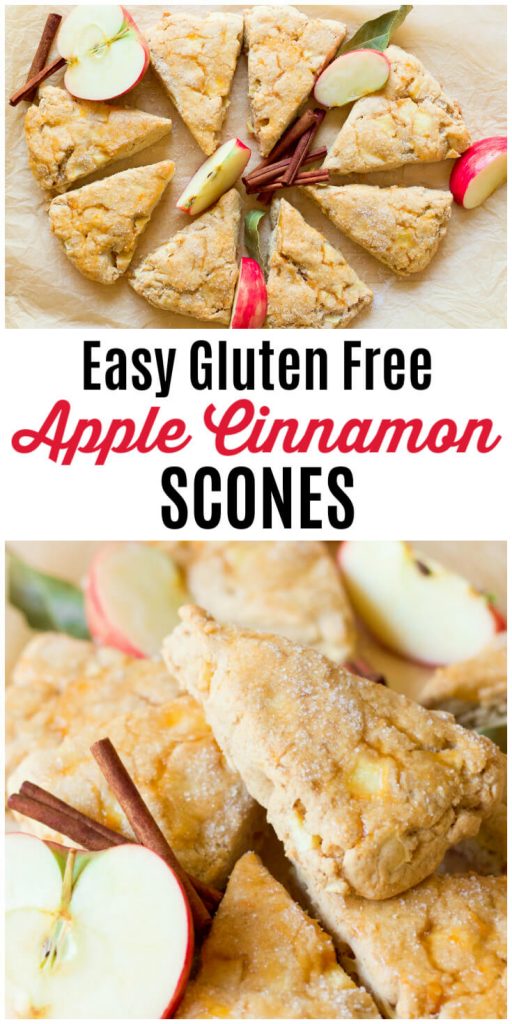 Easy Gluten Free Apple Cinnamon Scones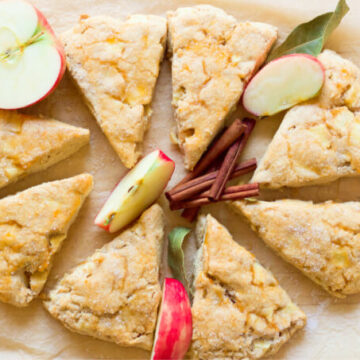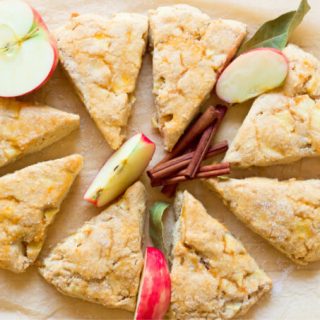 Easy Gluten Free Apple Cinnamon Scones
These Easy Gluten Free Apple Cinnamon Scones are a special breakfast treat! They're so easy to make, soft and tender and perfect for weekend brunches.
Ingredients
Apple Cinnamon Scones:
2 cups all-purpose gluten-free flour blend (<-- I use this gluten-free flour)
1 teaspoon ground cinnamon(<-- this is my favorite orangutan-safe sustainable cinnamon)
½ teaspoon baking soda
¼ cup maple sugar or coconut sugar
8 tablespoon super cold grass-fed butter, cut into cubes
1 egg, preferably pasture-raised or organic
⅓ cup sour cream or buttermilk
½ teaspoon vanilla extract
1 ½ cups diced apples, preferably organic
Apricot Maple Glaze:
Instructions
Preheat the oven to 350 degrees F. Line a baking sheet with unbleached parchment paper and set aside.
In a large mixing bowl (I use these mixing bowls), combine the gluten-free flour, cinnamon, baking soda and sweetener of choice. Add the cold cubed butter and give it a stir to coat the butter with the flour mixture. Using clean hands, mix the ingredients together until the mixture is fully combined and crumbly - the butter should be the size of peas, do not over mix.
In a medium mixing bowl, add the egg, sour cream/buttermilk and vanilla and stir to combine.
Add the wet ingredients to the dry ingredients and gently fold with a spatula, just until the ingredients almost come fully together - do not quickly stir (only gentle folding) and do not over mix. Gently fold in the apples, just enough to be mostly mixed into the dough.
Pour the dough into the center of the lined baking sheet. Flour clean hands if needed. Start to shape the dough into a rustic 9 inch circle, gently patting the dough to form it into a circle, making sure not to overwork the delicate dough.
Using a sharp knife, cut the round circle into 8 triangular pieces. Carefully separate the triangular pieces using the knife or a spatula underneath the bottom of the scone, just enough to make some space between each scone (because they will expand).
Bake for 20-25 minutes or until the scones are slightly puffed up, lightly golden brown and done in the center.
Let the scones cool completely on the baking sheet placed on a cooling rack.
To make the glaze, add the apricot jam and maple syrup to a small saucepan and heat on low just until the apricot jam has melted, then immediately remove from heat. Use a pastry brush to glaze the apricot-maple mixture over the scones.
Serve immediately and enjoy!
Notes
Tip: Freeze the butter ahead of time. This is a baking tip that my mom taught me when I was a young girl when she made my favorite scones. It makes the butter super easy to cut and helps a lot when making the dough.
Storage: Scones are best served on day 1 but can be stored in an airtight container in the refrigerator overnight and gently reheated in the oven the next day. If you don't plan on eating all of the scones on day 1, for optimum freshness, freeze the scones in an airtight container. To reheat, place them on a baking sheet and reheat on a low setting in the oven until heated through.
Optional Topping: Sprinkle a small amount of sugar-free erythritol, maple sugar or organic turbinado sugar over the tops of the glazed scones.
Adapted from Get Inspired Everyday's Gluten Free Lemon Blueberry Scones.
Nutrition Information:
Yield:

8
Serving Size:

1
Amount Per Serving:
Calories:

394
Total Fat:

15g
Saturated Fat:

9g
Trans Fat:

1g
Unsaturated Fat:

5g
Cholesterol:

61mg
Sodium:

244mg
Carbohydrates:

59g
Fiber:

3g
Sugar:

19g
Protein:

7g
This nutritional information was auto-generated based on serving size, number of servings, and typical information for the ingredients listed. To obtain the most accurate representation of the nutritional information in a given recipe, please calculate the nutritional information with the actual ingredients and amounts used, using your preferred nutrition calculator. Under no circumstances shall the this website and the author be responsible for any loss or damage resulting for your reliance on the given nutritional information. You are solely responsible for ensuring that any nutritional information provided is accurate, complete, and useful.
Are you on Pinterest? I pin lots of yummy real food recipes + more there. I have a board just for Beverages too. Come follow along.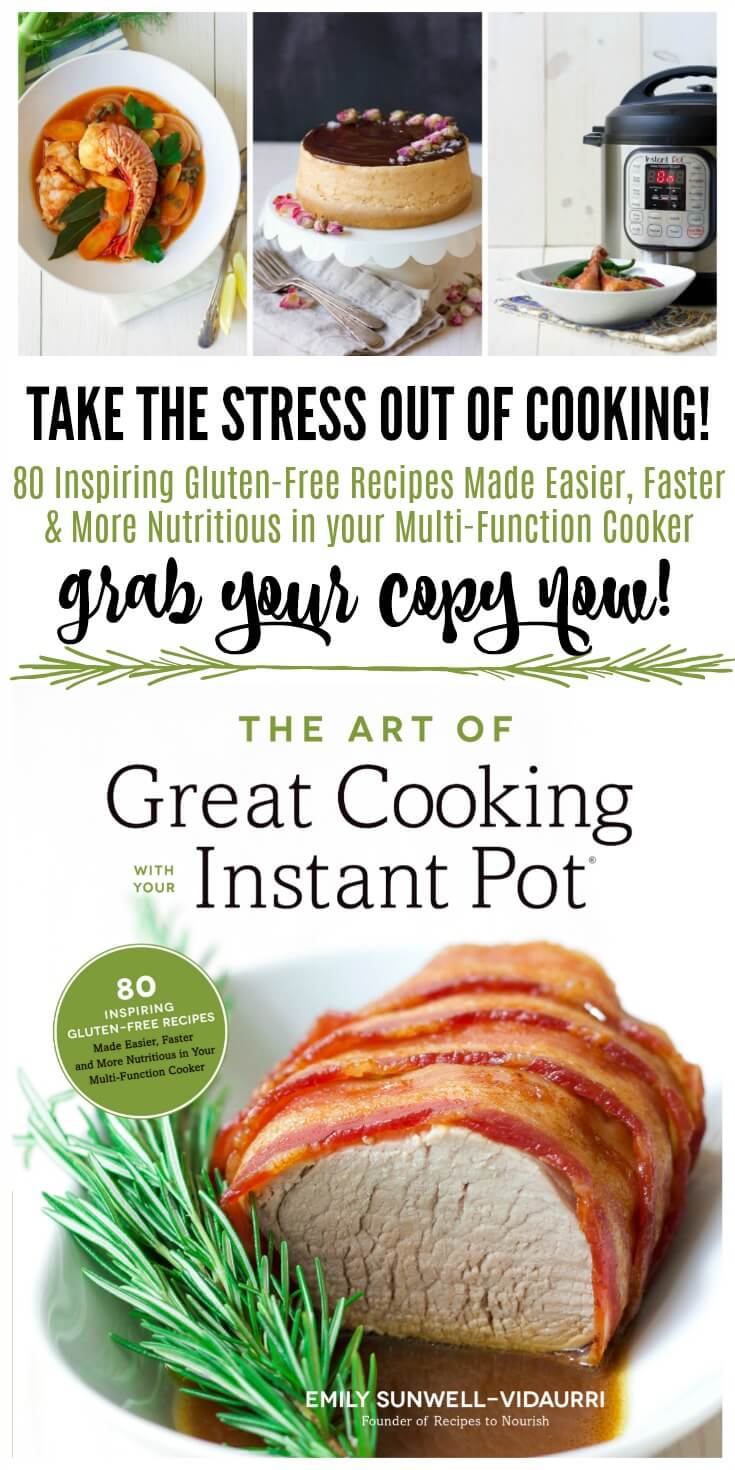 MORE RECIPES YOU MIGHT ENJOY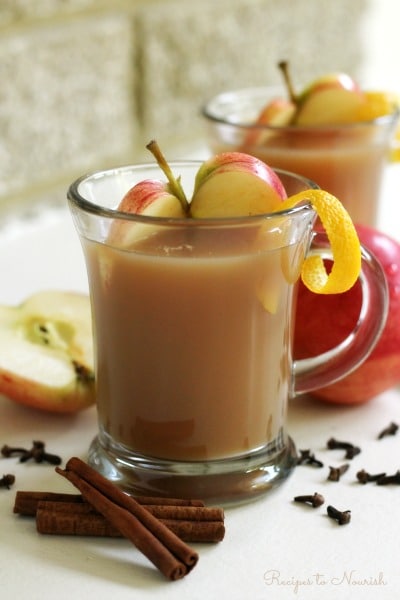 Easy Instant Pot Spiced Apple Cider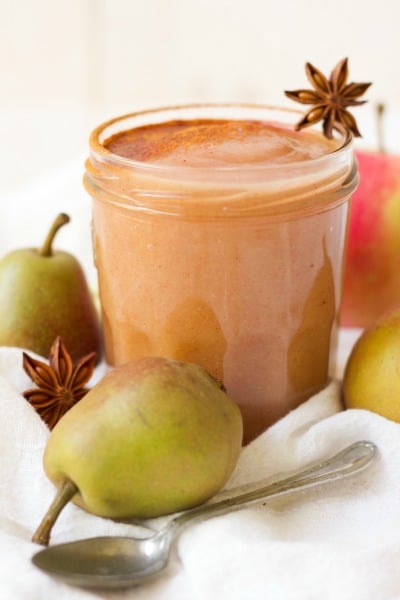 3 Minute Sugar Free Instant Pot Pear Applesauce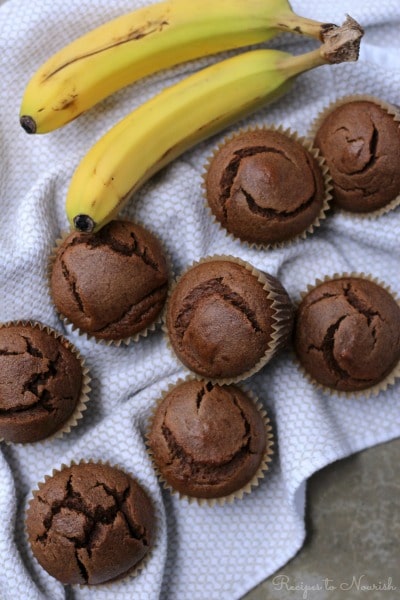 Grain Free Chocolate Banana Muffins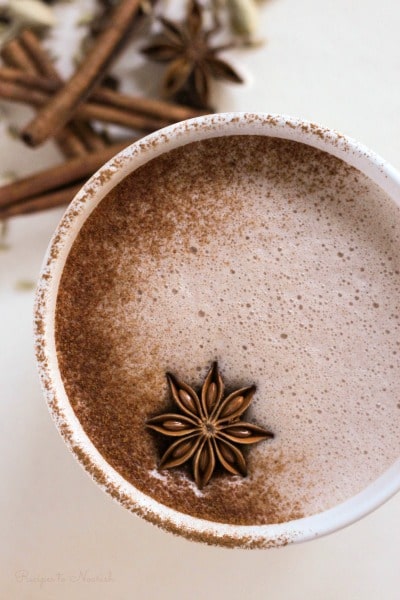 Chai Hot Chocolate {Nourishing + Real Food}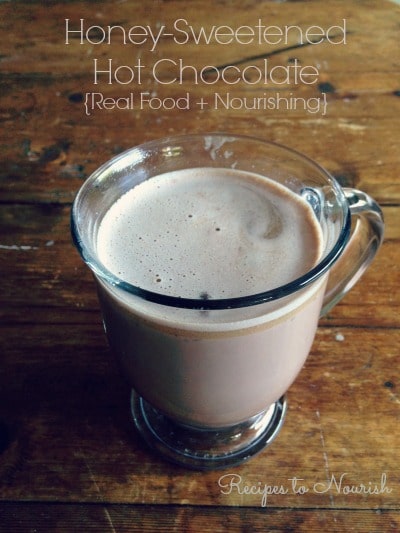 Nourishing Honey Sweetened Hot Chocolate