Instant Pot Paleo Creamy Broccoli Dill Soup is nourishing and packed with vegetables. This delicious, comforting soup is deeply flavored with hints of vibrant dill and refreshing celery.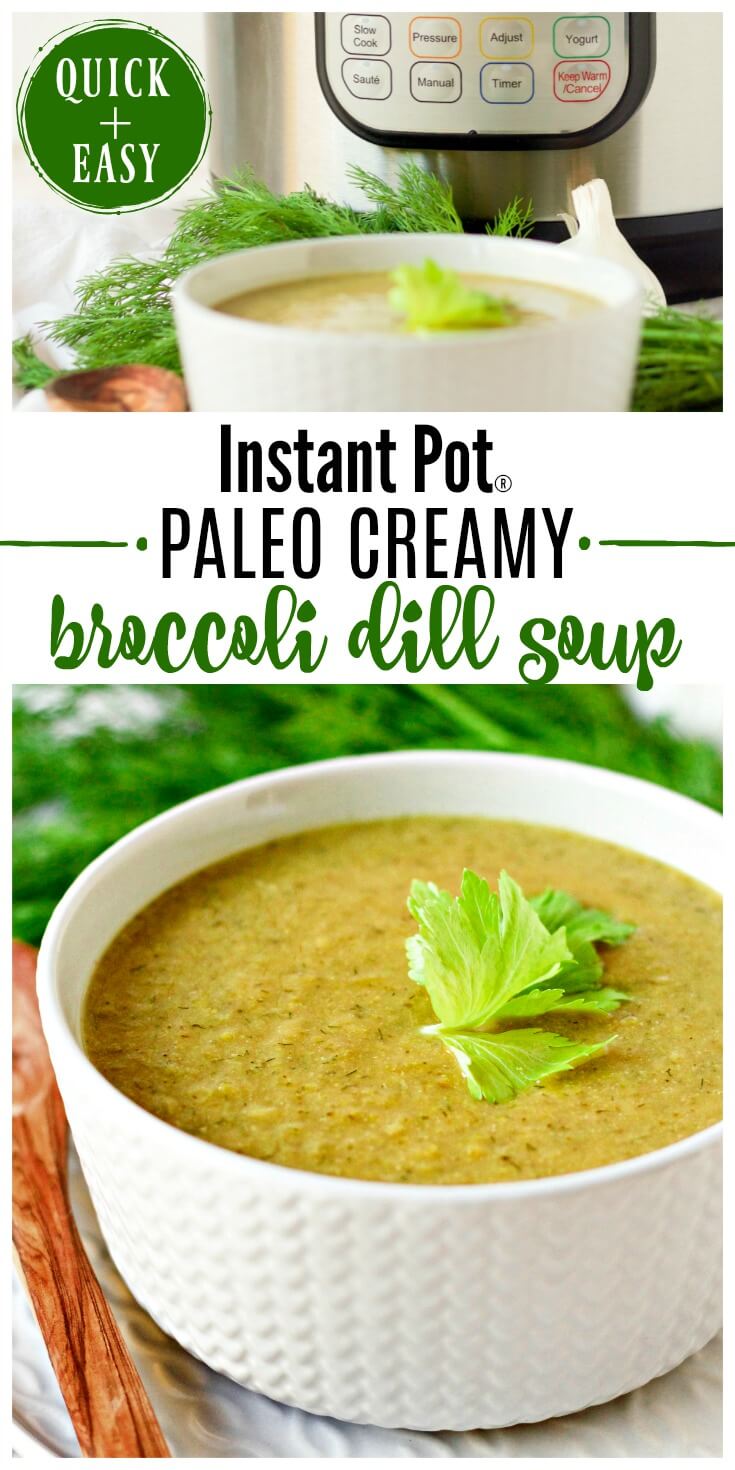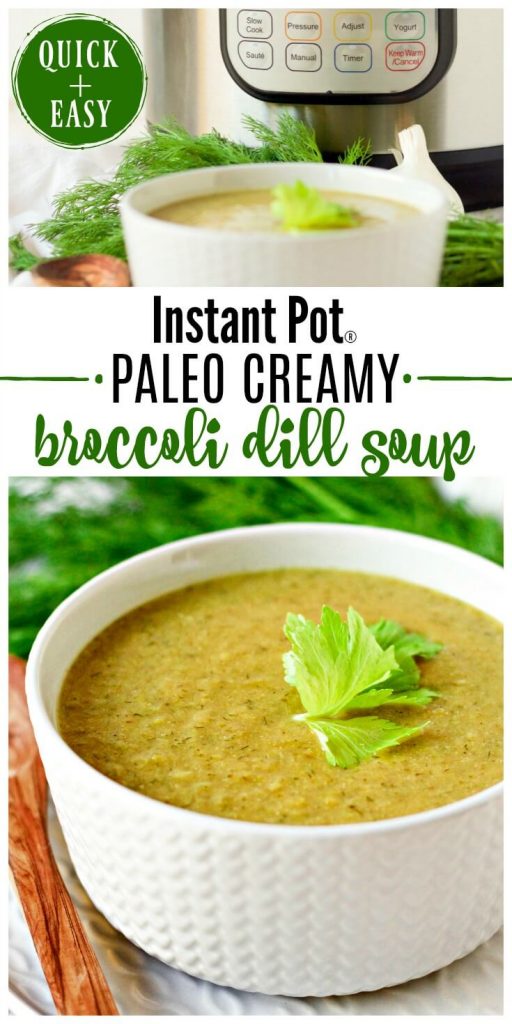 There's nothing like a cozy bowl of creamy broccoli soup that's chock-full of vegetables.
When the weather gets cold, soup is one of the most comforting meals you can enjoy.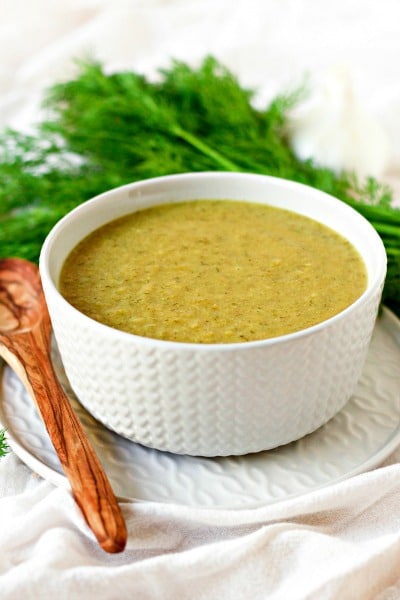 I loved soup as a young girl. My mom made homemade split pea soup and boxed Matzo Ball soup often because it was cheap and she loved it. We also always had our cabinets stocked with canned soup. Those cans became a staple in our home, and I loved the variety of soups we had, because that's all I knew.
Canned soup was a staple at my grandma's house too. She almost always made canned chicken noodle soup or chicken and alphabet soup for lunch a few times a week - with cheese and crackers. It makes me laugh a little and smile at the memory of those fun lunches with her.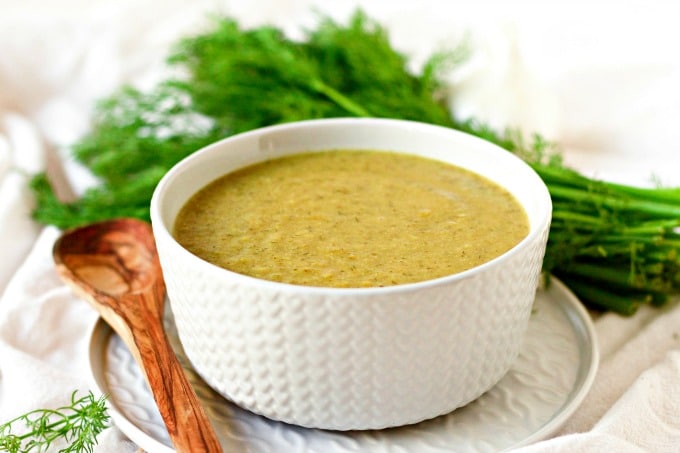 When we got to go out to eat at a restaurant, my mom and I almost always ordered soup, or a cup of soup instead of a bowl of soup.
My mom LOVED soup even though she didn't make a wide variety of homemade ones. I'm pretty sure it was comfort food for her. Her love for soup overflowed to me and it was something we both just couldn't get tired of.
We both loved French onion soup, butternut squash soup, tomato bread soup (a traditional Italian soup, I share this recipe in my cookbook), potato soup, creamy pureed soups and then there was my favorite - broccoli cheese soup.
Specifically TGIF's broccoli cheese soup. I loved the texture of the soup, the creaminess and thickness and probably my favorite part, all of that ooey, gooey cheese.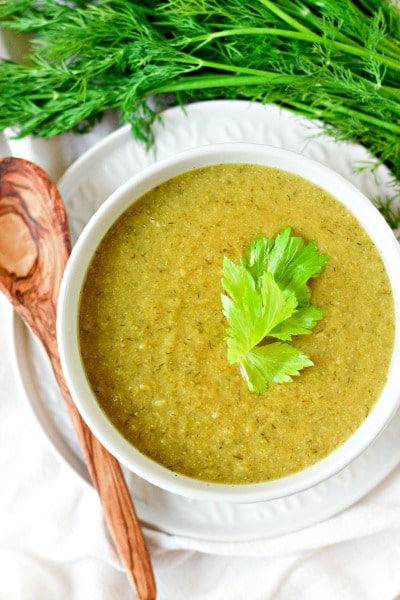 Sigh, all of that glorious cheese. Some days I miss it. I've been off of dairy for a long time now as I work on healing. When I get cravings for my favorite cheesy things like broccoli cheese soup, I set out to make something similar.
This healthy Instant Pot Paleo Creamy Broccoli Dill Soup is dairy free and can be made vegan too.
It's super easy to make and you can make it up ahead of time and enjoy it the next day.
Because I love the creaminess of broccoli soup - whether it's broccoli cheese soup or cream of broccoli soup, I like to add non-fortified nutritional yeast to my version.
The main reason why I add non-fortified nutritional yeast is because it helps add that delicious, creamy, cheesy flavor. I also love that it's full of B vitamins! It also happens to be a plant-based protein.
I also LOVE dill and lemon with broccoli. It's such a refreshing flavor combo and a favorite in my home.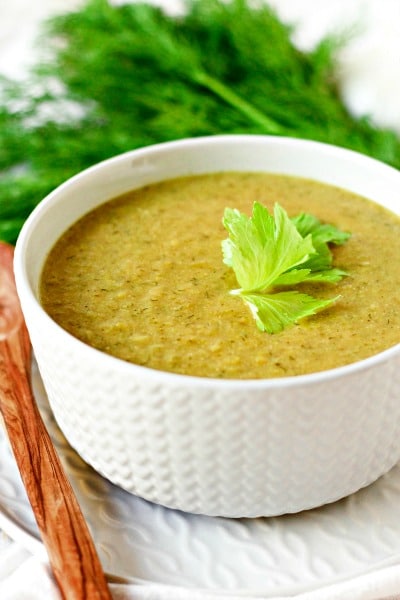 Put your Instant Pot to use and make this delicious, healthier soup during the colder winter months.
It doesn't have to be cold outside either, this soup is delicious year-round!
Instant Pot Paleo Creamy Broccoli Dill Soup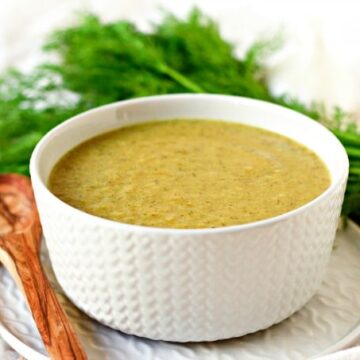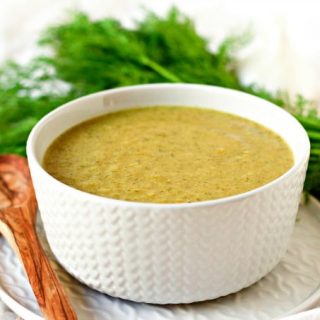 Instant Pot Paleo Creamy Broccoli Dill Soup
Instant Pot Paleo Creamy Broccoli Dill Soup is nourishing and packed with vegetables. This delicious, comforting soup is deeply flavored with hints of vibrant dill and refreshing celery.
Ingredients
2 tablespoon grass-fed ghee or grass-fed butter, avocado oil or healthy fat of choice
1 yellow onion, peeled and sliced
3 fresh garlic cloves, peeled and chopped
3 celery stalks, sliced
4 cups (10 oz) fresh or frozen broccoli florets
2 cups bone broth or vegetable broth
½ teaspoon Celtic sea salt or Himalayan sea salt (<-- salt)
6 tablespoon non-fortified nutritional yeast
1 tablespoon fresh lemon juice or unfiltered apple cider vinegar
1 ½ teaspoon dried dill
1 teaspoon Dijon mustard
Instructions
Add healthy fat of choice to the Instant Pot and press "Sauté". Add the onion and sauté for 6-7 minutes, stirring occasionally, until the onions become lightly caramelized. Add the garlic and give it a stir, cooking for about 1 minute. Press the "Keep Warm/Cancel" button.
Add the celery, broccoli, broth and sea salt, stir to combine. Place the lid on the Instant Pot making sure the steam release valve is sealed. Press the "Manual" button and set to 5 minutes.
When the Instant Pot is done and beeps, press "Keep Warm/Cancel". Allow to naturally pressure release for 5 minutes. Using an oven mitt, "quick release"/open the steam release valve. When the steam venting stops and the silver dial drops, carefully open the lid.
Carefully pour the soup into a high powered blender (or leave in the pot and use an immersion blender instead), leaving at least 3 inches of space from the top and add the nutritional yeast, lemon juice, dill and Dijon mustard. Blend on low speed just until fully incorporated, about 5 seconds and pour the soup back into the Instant Pot.
Taste for seasoning, add more salt if you prefer. Serve immediately or store for later use.
Notes
Serving Suggestions: This soup is delicious served with gluten free cheddar drop biscuits. If you don't eat grains, try topping this soup with crumbled up plantain chips - it's so yummy!
If dairy isn't an issue for you, go ahead and top your bowl of soup with a big dollop of sour cream or a couple handfuls of shredded cheddar cheese for some extra cheesy bliss.
Storage: Keep in an airtight container up to 3 days in the refrigerator.
Nutrition Information:
Yield:

4
Serving Size:

1
Amount Per Serving:
Calories:

255
Total Fat:

15g
Saturated Fat:

6g
Trans Fat:

0g
Unsaturated Fat:

7g
Cholesterol:

26mg
Sodium:

954mg
Carbohydrates:

22g
Fiber:

9g
Sugar:

5g
Protein:

15g
This nutritional information was auto-generated based on serving size, number of servings, and typical information for the ingredients listed. To obtain the most accurate representation of the nutritional information in a given recipe, please calculate the nutritional information with the actual ingredients and amounts used, using your preferred nutrition calculator. Under no circumstances shall the this website and the author be responsible for any loss or damage resulting for your reliance on the given nutritional information. You are solely responsible for ensuring that any nutritional information provided is accurate, complete, and useful.
Are you on Pinterest? I pin lots of yummy real food recipes + more there. I have a board just for Slow Cooker & Instant Pot Recipes and Gluten Free Treats too. Come follow along.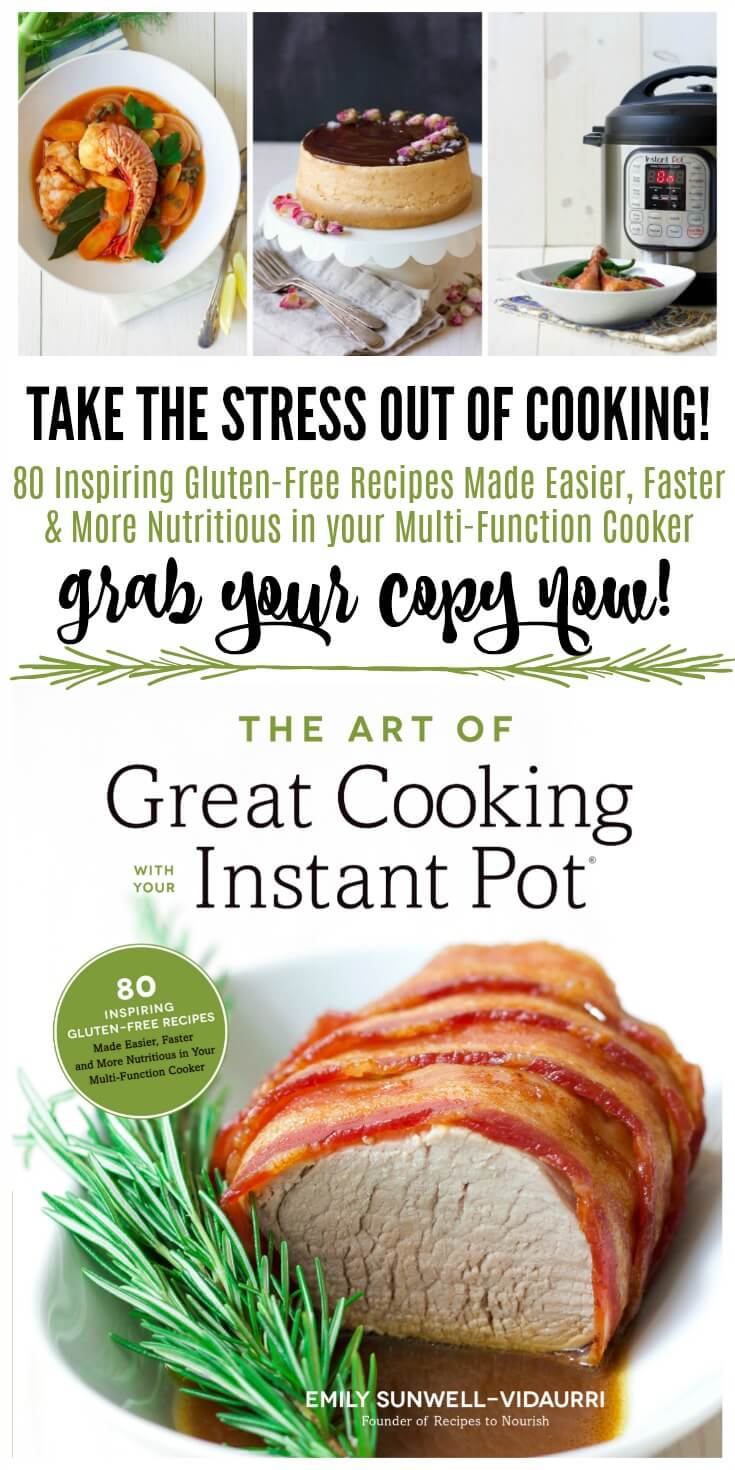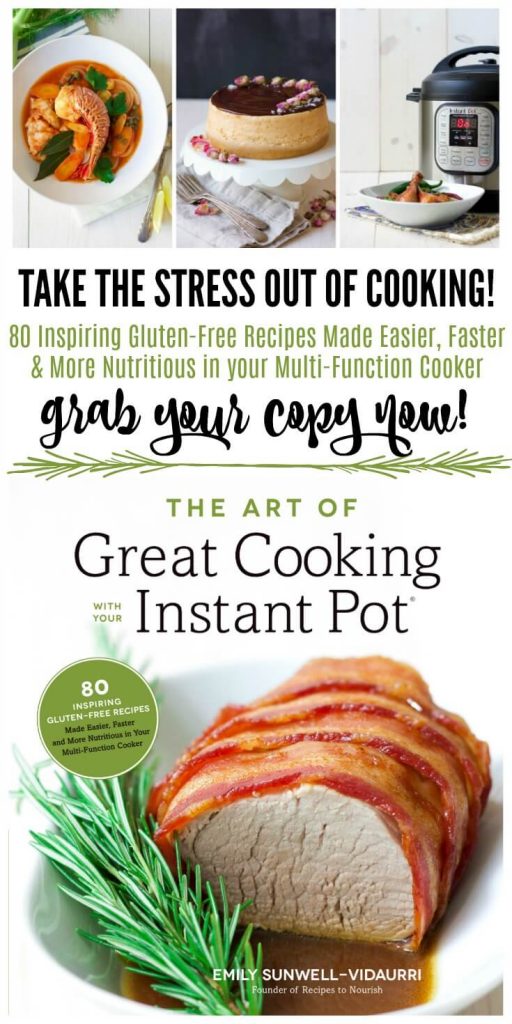 MORE RECIPES YOU MIGHT LIKE
5 Minute Healthy Instant Pot Chocolate Pudding
3 Minute Sugar Free Instant Pot Pear Applesauce

Hydrolyzed Collagen, Desiccated Liver, Coconut Oil, Liver Detox Support, Ancient Minerals + more!
SaveSaveSaveSave
SaveSave
SaveSave
SaveSave
SaveSave
SaveSave
SaveSave
SaveSave
SaveSave
SaveSave
SaveSave
SaveSave