Get rid of garden weeds fast with this Super Powerful Chemical Free Natural Weed Killer! This homemade, non toxic, chemical free weed killer effectively kills weeds in walkways, driveways, sidewalks, dry soil, decomposed granite and more.
DO YOU HAVE WEEDS IN YOUR GARDEN OR YARD?
We get tons of weeds in our yard, especially in the late winter, spring and summer.
I don't know about you, but I'm not interested in those weeds and don't want them taking over the yard. It's not practical to weed thousands of weeds by hand, so they must be killed.
I don't kill the weeds with chemicals and damage the soil with toxic herbicides like Roundup.
Instead I make my own homemade weed killer and there's a good reason for this, many in fact.
Friends, I'm all about keeping it real, and honestly, chemical garden sprays and toxic herbicides are scary.
DID YOU KNOW THAT A U.S. GEOLOGICAL SURVEY STUDY FOUND GLYPHOSATE (ROUNDUP® HERBICIDE) IN 75% OF AIR AND RAIN SAMPLES?
Do you know what that means? To put it simply - carcinogens. Cancer. Yes, that's right, a carcinogen is a substance capable of causing cancer in living tissue. Toxic garden herbicides are not safe! (source)
In 2017, California's Environmental Protection Agency's Office of Environmental Health Hazard Assessment (OEHHA) issued a statement saying that glyphosate, the active ingredient in Monsanto's Roundup® weed killer, is a chemical known to cause cancer and they added it to the state's list of chemicals known to cause cancer. (source)
Even the World Health Organization (WHO) said in an issued report following a 2014 study, that glyphosate is a "probable human carcinogen". (source)
Friends, this is not good. We need to get these toxic chemical herbicides out of our gardens and yards. These chemical sprays should not be anywhere near our homes.
Now that this is a known fact, we can use this information to be more mindful of the way we live.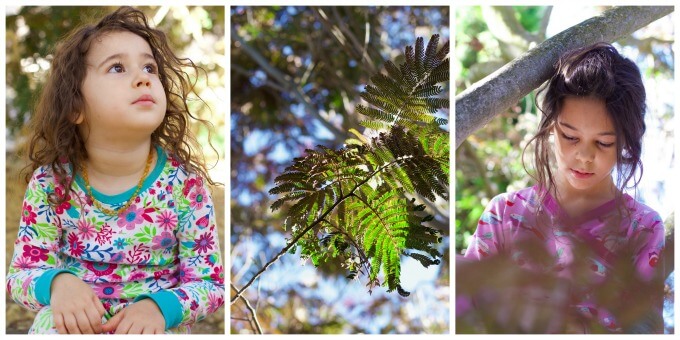 DITCH THE TOXIC HERBICIDES AND KEEP YOUR HOME AND GARDEN SAFE WITH THIS EASY TO MAKE NON TOXIC WEED KILLER.
It's very important to recognize that we can and do influence the industry with our money.
So, what can YOU do?
Choose to not buy into a conventional agriculture system. That means choose organic and/or eat from the EWG's Clean 15 group and avoid the Dirty 12+ as much as possible. You can also talk to farmers at your local farmers markets and ask them what their farming practices are. If they use chemical sprays, you can let them know that you'd love to buy from them if they would consider using organic practices.
Be mindful of the products that you put on your body and use safer, eco-friendly, non toxic, "green" choices in your home to avoid an extra toxic overload. If you need help learning about how to incorporate more of these things into your life, I'm happy to help, so please reach out!
Keep toxic herbicides and other chemicals out of your garden and yard with chemical free weed control!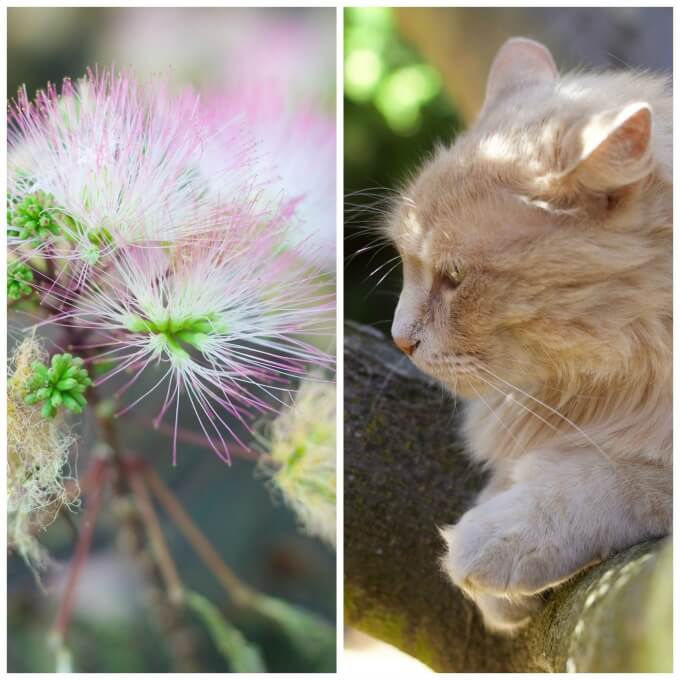 YES, YOU CAN KILL WEEDS NATURALLY WITHOUT ROUNDUP!
Choose to use safer alternatives like making your own organic weed killer and do NOT use Roundup® and chemicals in your garden or yard and around your home.
It's super easy to make your own DIY chemical free natural weed killer!
Plus (and maybe most importantly) making homemade DIY weed killer is better for our planet and so much safer for our bodies!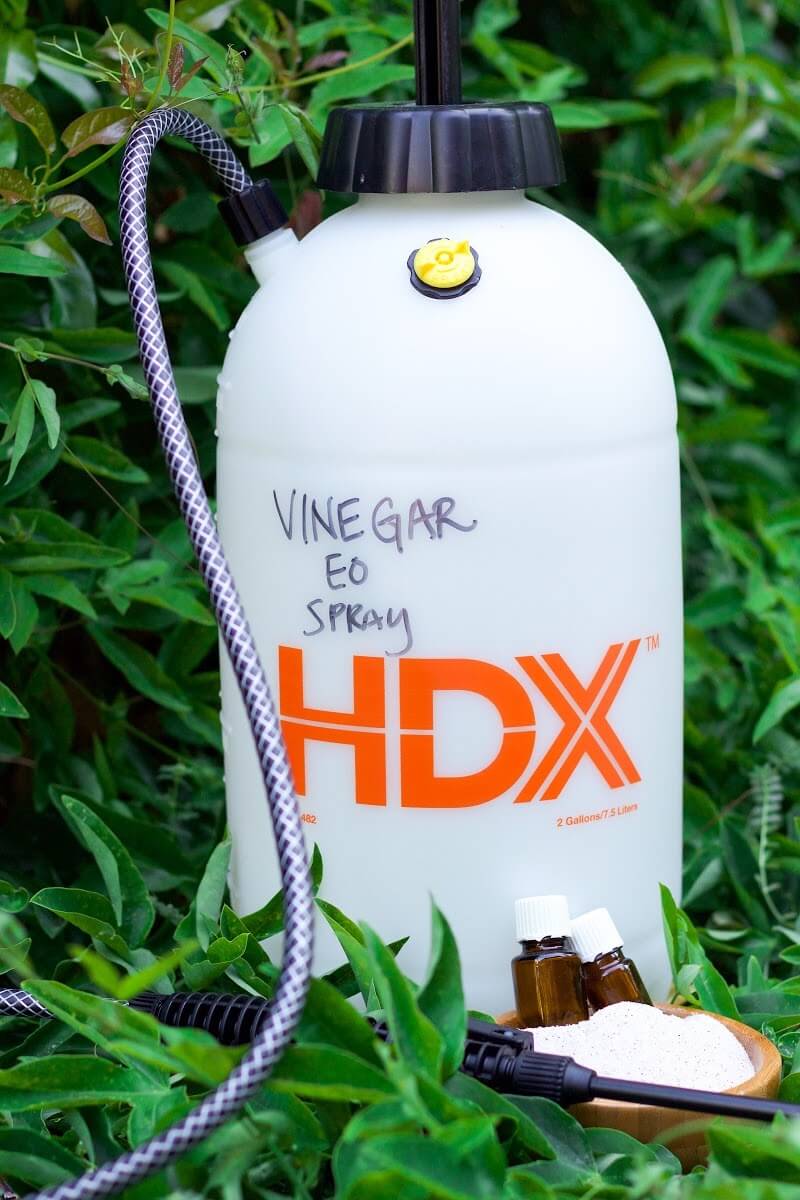 MAKING YOUR OWN NATURAL CHEMICAL FREE WEED KILLER IS RELATIVELY INEXPENSIVE.
Making your own homemade weed killer can be cheaper than the toxic chemical sprays like Roundup! I've seen 1 gallon of Roundup listed at $50-109. I can make over 1 gallon of my homemade super powerful chemical free natural weed killer for under $40.

On top of the price difference, have you ever noticed that Roundup doesn't kill weeds very fast and the weeds often grow back quickly? I have!
Often, I see weeds growing back faster in my neighbor's yard where their gardener sprays Roundup in the sidewalk cracks - meaning they have to spray more often which means it ends up costing more money to kill the weeds.
The most expensive tool that you'll need to buy to make your own homemade weed killer is a 2 gallon weed and garden sprayer. Personally, I do not recommend buying a sprayer that has popular herbicide names spread all over the bottle, but that's up to you.
I like to handwrite on the 2 gallon garden sprayer bottle - NO CHEMICALS or HOMEMADE WEED KILLER WITH VINEGAR or HOMEMADE WEED KILLER WITH ESSENTIAL OILS.
My family knows that there are no chemicals in the garden sprayer bottle, but I write on it solely for the purpose of any viewers, a.k.a. my neighbors and neighborhood walkers. I want them to see that I am using SAFE, eco-friendly, non-toxic, chemical free natural weed killer. What I like about this is that sometimes it helps spark some conversation about safer, natural products and why toxic chemicals like Roundup are so dangerous.
ONLY 5 INGREDIENTS GO INTO THIS STRONG HOMEMADE WEED KILLER.
Vinegar – garden vinegar is one of the most important parts of this DIY natural weed killer. I highly recommend using full strength garden vinegar - I use 45% home and garden vinegar. I have also used 30% garden vinegar, which is usually a few dollars cheaper than the 45%.
Table Salt – regular salt is another important part of this chemical free natural weed killer. By all means, please buy the cheapest, generic kind of table or iodized salt that you can find. You do not need to waste your money on quality salts. Whatever you do, don't use your precious Epsom salt or expensive sea salt for this, it's not necessary. I usually buy 30 oz of Kirkland brand salt at Costco for $3.47. Otherwise I buy the cheapest bulk salt that I can find online.
Orange Essential Oil – citrus essential oils like orange essential oil are photosensitive, which means that if you apply the essential oil on your skin and then you go out in the sun, your skin is more susceptible to get burned or even blister. Certain essential oil constituents (natural chemicals found in particular essential oils like citrus essential oils), particularly furanocoumarins (FCs), react when exposed to Ultraviolet UVA light. So think about it! Add this essential oil to your homemade weed killer mixture and you're going to give a huge boost to frying those weeds out in the hot sun.
Clove Essential Oil – because of the eugenol constituent, clove oil is known to damage the cellular membranes in plants, therefore helping to kill weeds.
Liquid Dish Soap – the purpose of the liquid dish soap is to help the vinegar stick to the weeds, which is a good thing! You want the properties of this diy weed killer formulation hanging out on the weeds for the sun to fry.
HOW TO MAKE THE BEST NATURAL WEED KILLER
It's so easy to make this super powerful natural chemical free weed killer recipe! All you need is 5 ingredients - garden vinegar, salt, liquid dish soap, orange essential oil and clove essential oil.
First, try and choose a dry, sunny (preferably hot) day for spraying the weeds.
Get your 2 gallon weed and garden sprayer ready by removing the sprayer lid. Then collect all of the DIY weed killer recipe ingredients.
I like to add the salt to the garden sprayer first, then pour in the essential oils, then add the dish soap and lastly add the vinegar.
Next, place the sprayer attachment back in the garden spray and secure the lid. Lift up the closed sprayer and shake up the mixture the best that you can. At this point, I like to let it sit overnight so the salt fully dissolves. If you don't have time for that, I suggest shaking the mixture long enough to dissolve as much of the salt as possible.
When you're ready to spray the weeds, shake up the sprayer and spray in the morning after all dew/moisture is gone. Spraying in the morning allows for full sun exposure during the day which helps speed up the process of killing the weeds.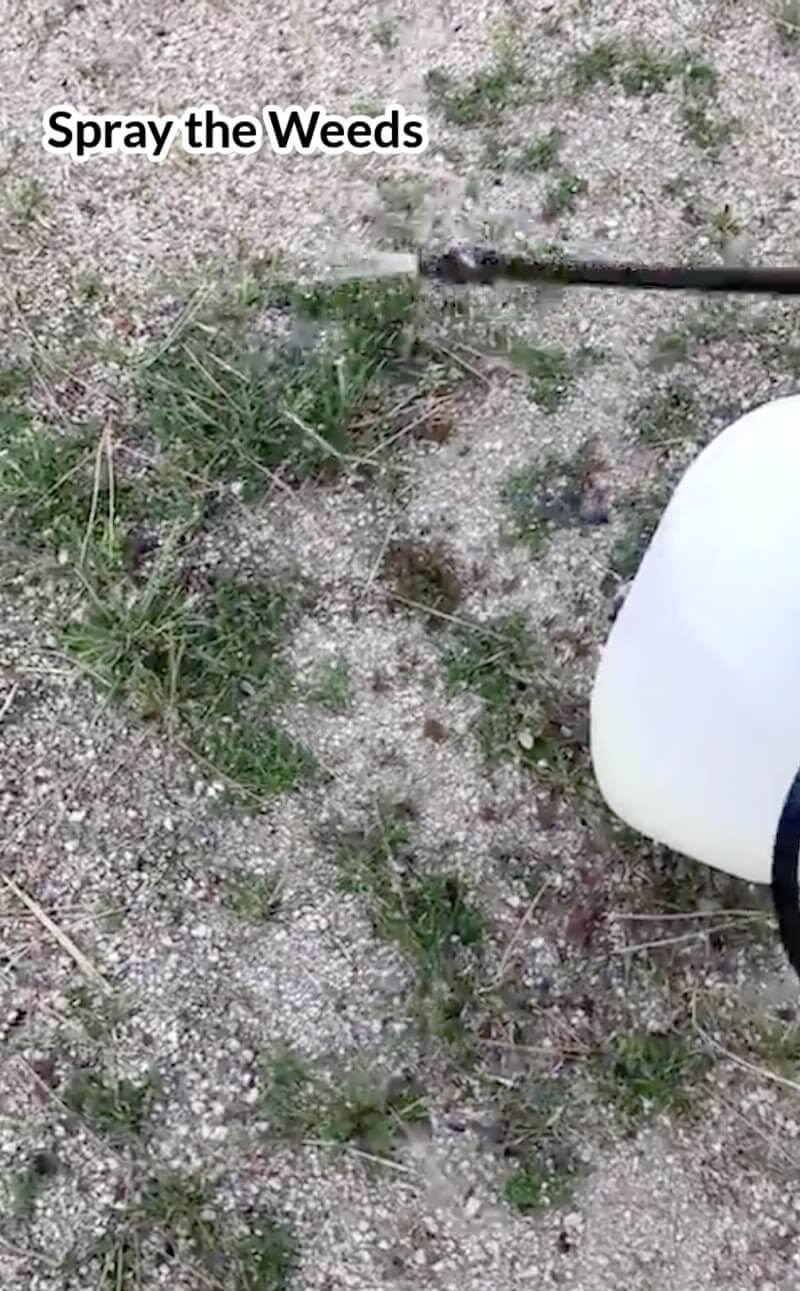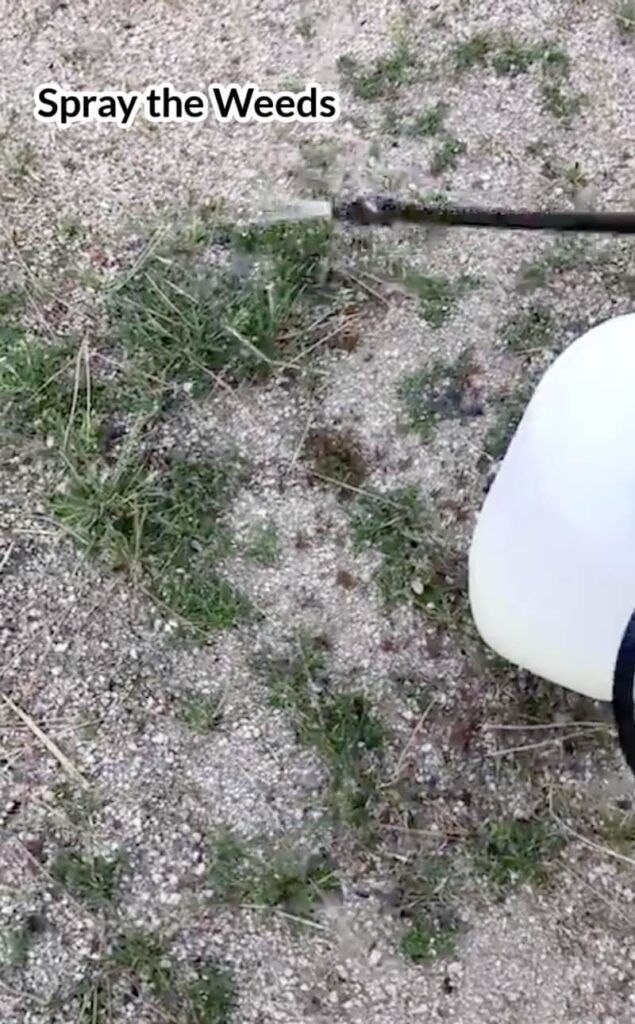 As you're spraying the weeds, make sure to shake up the sprayer from time to time to help keep the mixture evenly dispersed.
That's it! Now let the sun help speed up the process of killing the weeds. You will notice that the weeds will start to wilt and shrivel up within hours, depending on how hot the day is and how much sunshine the weeds get.
If the weeds are really bad, consider doing a second application in the evening or you can repeat the process again the next morning.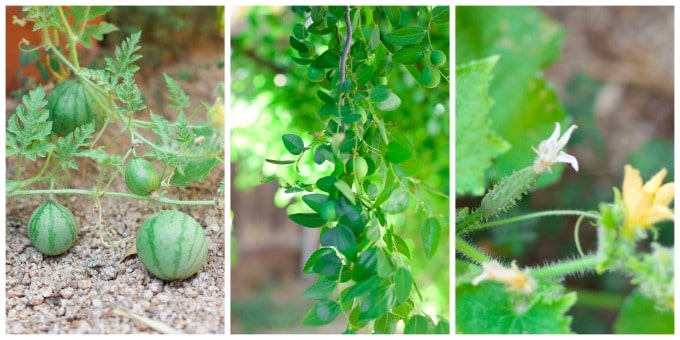 TIPS FOR NATURAL WEED KILLER SUCCESS
Is the type of vinegar and vinegar percentage important?

Yes! I only recommend using full strength garden vinegar.

45% home and garden vinegar

works the best, but

30% garden vinegar

works well too and is usually a few dollars cheaper than the 45%. I

do not

recommend using regular vinegar because it's not as powerful and won't produce the same results, but if you absolutely need to use something cheaper, try to find at least

6% vinegar

. The higher the vinegar percentage, the better the strength. I have tested this DIY weed killer recipe using 3% vinegar and it does NOT work well. Just note that 30-45% garden vinegar works the best.

Can the homemade natural weed killer recipe be diluted with water?

No! Adding water to the mixture will dilute the recipe. Full strength is necessary for this weed killer to work properly.

Is there a certain type of liquid dish soap that works best?

You can use any dish soap that you'd like, but try to stick to an eco-friendly dish soap. I use this

lime liquid dish soap

and I have also used this

grapefruit liquid dish soap

.

Will this homemade weed killer work for a large yard?

If you have a huge property, you might need to double the batch. We have a rather large front corner lot and weeds grow everywhere in decomposed granite. This full amount of the recipe covers the whole property with 1 spraying.

When should the natural weed killer be sprayed?

It's best to spray the weed killer solution in the morning (after any dew or condensation is gone - if there is any). Try to apply on a day when there will be lots of sun - sun with hot heat is even better! Sun is the best friend for this homemade weed killer as it drastically helps speed up the process of weeds dying. Depending on how weed infested your garden or yard is, you might need a few applications of this natural weed killer or just a few follow-up spot treatments.

Will the vinegar harm the soil?

No, the vinegar will not harm the soil. Salt however makes killing weeds a bit more permanent and can kill grass, so use caution if there are plants or grass that you do not want to kill. If you're trying to spot treat grass with weeds in it or areas with plants that you don't want to die, I would suggest omitting the salt from the mixture or drastically reducing the salt. Just know that the weed killer won't work as well as the full strength mixture. Either way, the good news is that you won't harm the soil with the salt, it will just be a better preventive when it comes to weeds growing back.
THE NEXT TIME THAT YOU NEED TO GET RID OF WEEDS IN YOUR GARDEN OR YARD, DON'T REACH FOR TOXIC CHEMICALS! MAKE YOUR OWN SAFE AND EASY NATURAL WEED KILLER INSTEAD!

IF YOU LIKE THIS DIY SUPER POWERFUL NATURAL CHEMICAL FREE WEED KILLER RECIPE, YOU MAY ALSO LIKE THESE NATURAL LIVING AND DIY RECIPES FROM RECIPES TO NOURISH: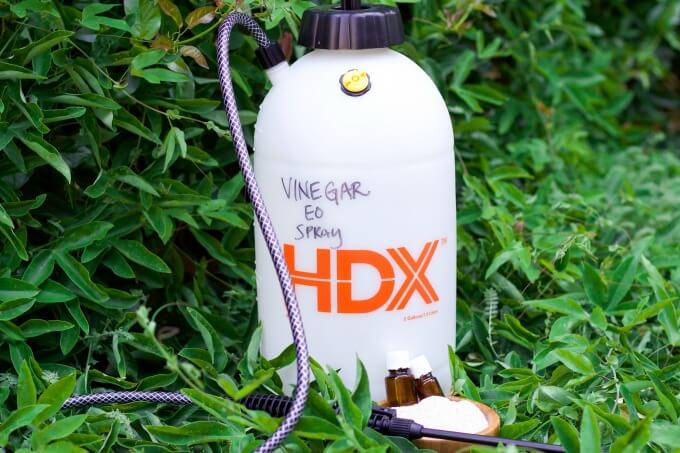 Chemical Free Natural Weed Killer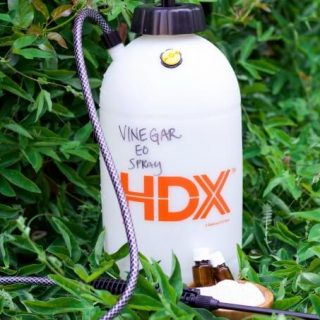 Super Powerful Chemical Free Natural Weed Killer
Get rid of garden weeds fast with this Super Powerful Chemical Free Natural Weed Killer! This homemade, non toxic, chemical free weed killer effectively kills weeds in walkways, driveways, sidewalks, dry soil, decomposed granite and more.
LEARN MORE ABOUT NATURAL LIVING + JOIN MY FB GROUP
Join my Recipes to Nourish – Natural Living Facebook Group – a learning community focusing on Natural Living, Self Care, Wellness + Vibrant Health. Topics include DIY recipes, natural body care, real food recipes, non-toxic living, essential oils, supporting the body, chemical free home + much more.
Find out how to buy essential oils at wholesale (24% off retail prices).
MORE RECIPES YOU MIGHT LIKE
Strawberry Ginger Switchel (electrolyte drink, easy ferment)
Blackberry Cheesecake Popsicles (real food, paleo, gluten-free)
Tomato Basil Garlic Butter Sauce (paleo, gluten-free)

Grass-fed Collagen, Desiccated Liver, Coconut Oil, Liver Detox Support, Ancient Minerals + more!
SaveSave
SaveSave