Let the holiday season begin!
Want to stay out of the malls and stay in your cozy warm home sipping on some hot chocolate or spiced apple cider? I know I do! I prefer to do my holiday shopping in the comfort of my home.
Am I the only one who doesn't care for in-store shopping? I really don't like it … malls and stores, traffic and long lines are NOT my thing.
Thank goodness for online shopping!
Need some holiday gift ideas for the natural home and kitchen?
I've put together a list of some of my FAVORITE GIFT IDEAS for the natural home and kitchen. There's a little bit of something for everyone.
Gifts for the cook in your life, real foodie, kids, health conscious or natural-loving people with a range in prices for all budgets - from stocking stuffers to larger gifts!
Happy Holidays from Recipes to Nourish!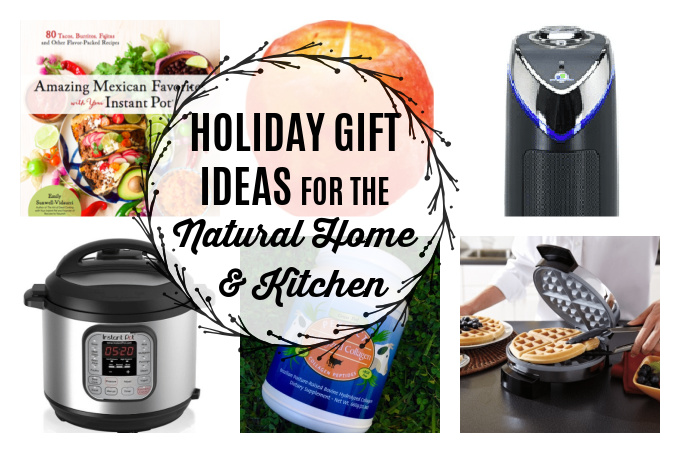 Holidays Gift Ideas for the Natural Home and Kitchen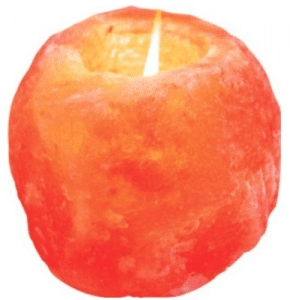 Himalayan Natural Crystal Salt Tealight Candle Holder
My family loves this natural salt candle holder. It's a lovely addition to a dining room table, bedroom or anywhere else in the home. One of the things I love about Himalayan salt crystals is that they are known for helping clean the air in the home. They're also known for helping create a positive energy in the room too. Plus they're so pretty!
Himalayan Salt Lamp
I love these Himalayan salt lamps, they are so beautiful! We have 3 in our home - one in our kitchen, one in our family room and one in a bathroom. When heated, they're known to release negative ions to help purify the air.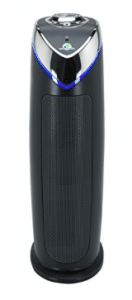 GermGuardian True HEPA Home Air Purifier
This is one thing I think every home should have. Now that I've been through 3 toxic mold homes, I can't stress enough how important clean indoor air quiaty is. It's very important to use a True HEPA air purifier, others just don't work. This particular model helps eliminate airborne bacteria, viruses, germs and mold. It's a must have in all homes in my humble opinion.
Instant Pot
Want the perfect roast in no time? Bone broth in hours? Perfectly cooked cheesecake every single time? Easy-peeling hard boiled eggs in minutes? The BEST applesauce in 3 minutes?! The Instant Pot is an amazing kitchen tool! It's an electric pressure cooker, but can also act as a slow cooker, rice cooker, steamer, warmer, sauté pan and more. And it just happens to be one of MY FAVORITE kitchen tools! I love it so much that I've written FOUR Instant Pot Cookbooks!
> Recipes to Nourish" width="680" height="340" data-pin-nopin="true">
My Cookbook! The Art of Great Cooking with Your Instant Pot
If you are buying an Instant Pot, know someone who loves the Instant Pot or are already an Instant Pot owner, go ahead and grab yourself a copy of one or all of my unique cookbooks!
My first cookbook, The Art of Great Cooking with Your Instant Pot, ranked #4 in Amazon's Top 10 New Releases in Gluten Free Recipes upon release! It's full of delicious recipes that are naturally gluten free (many are Paleo and Primal-friendly, some are low carb-friendly, most are egg-free, lots are dairy-free although you will find dairy in some of the recipes but can make adjustments for your dietary needs in most of them). You won't find any processed foods in my cookbook, just healthier, real food ingredients.
I've had rave reviews from lots of readers about the Asian Pear Korean-Braised Short Ribs, Sauerkraut-Apple Pork Roast, Citrus-Herb Basque Chicken, Beef Picadillo Chili with Sweet Raisins, Caramelized Mushroom & Onion Crustless Quiche and the Lemon-Thyme Ricotta Cheesecake.
My Cookbook! Amazing Mexican Favorites with Your Instant Pot
I co-authored my second cookbook, Amazing Mexican Favorites with Your Instant Pot, with my husband. It ranked as a #1 New Release BEST SELLER! We share 80 family recipes for making the most popular Mexican dishes the quick and easy way. With my husband's deep-rooted Mexican heritage and former chef experience and my experience as a busy mom and food blogger, this cookbook brings you the best of both worlds: authenticity and practicality. Each recipe in this cookbook has the rich and vibrant flavors of Mexican food that you love, streamlined for today's health-conscious home cook. All of the recipes are gluten-free, swapping heavy carbs and processed ingredients for real foods that will nourish your family.
Some favorite recipes included: Mexican-Spiced "Barbecue" Shredded Beef (Barbacoa), Chorizo with Potatoes (Chorizo con Papas), Green Pork Chili (Chile Verde), Chicken Enchiladas (Enchiladas de Pollo), Spanish Frittata (Torta Española), Chile Dip (Salsa de Chile Rellenos), Zucchini Corn Soup (Sopa de Calabacitas con Elote), Chicken with Rice (Arroz con Pollo), Custard Tart (Flan) and Rice Water (Horchata).
My Cookbook! Low-Carb Cooking with Your Instant Pot
My third cookbook, Low-Carb Cooking with Your Instant Pot, was also co-authored with my husband. If you're looking for lower carb recipes, this cookbook is for you!
Some favorite recipes included: Sweet and Spicy Shredded Blackberry Ham, Healthy Baba Ghanoush, Cheesy Veggie-Stuffed Meatloaf, Healthy Alaskan Cod with Tomato-Olive Tapenade, Healthy Zucchini-Mint Soup, High-Fat Greek Spinach Dip Cheese-Lovers' Stuffed Poblano Peppers, Italian Wedding Soup and No-Sugar Rhubarb Compote.
My Cookbook! The Big Book of Instant Pot Recipes
I co-authored my fourth cookbook, The Big Book of Instant Pot Recipes, with 3 other food bloggers. You'll find a wide variety of 240 recipes - 60 recipes are mine (which stay true to the gluten-free recipes you'll find in Recipes to Nourish). This cookbook has all the categories you can think of in it - breakfast, lunch, soups and stews, pastas, mains, sides, desserts and condiments and sauces. Just like my other cookbooks, you'll find my photography included for all of my recipes as well as on the title page and on the chapter headers Breakfast and Condiments & Sauces.
Some favorite recipes included: Double Chocolate Banana Bread, Lemon Alfredo Pasta, Cauliflower Mac & Cheese, Creamy Spinach Lasagna Soup, Sweet & Tangy Pineapple Shredded Beef, Spice-Rubbed Apricot-Glazed Ribs, Minted Meatloaf, Sweet & Tangy Thai Basil Orange Chicken, BBQ Apricot Pulled Pork, Pomegranate Chicken, Shredded Honey-Garlic Chicken, Parmesan-Lemon Chicken Risotto, Caramelized Onion & Veggie-Packed Stuffing, Buttery Sour Cream Cabbage, Bacon Brussels Sprouts, Sweet Honey Cornbread, Spiced Pumpkin Cheesecake, Honey-Sweetened Lemon Curd, Nourishing Mushroom Gravy, Cranberry Sauce and Spiced Apple Butter.
Wilton Bake-Even Cake Strips
If you know someone who loves to bake cakes, then get these cake strips! Anyone who enjoys baking is going to LOVE these! The cake strips are made of fabric and secure around round cake pans to help cakes bake evenly. The coolest thing about these cake strips is that it helps your cakes bake level - with perfect flat tops instead of rounded, high-rising centers with cracked tops and overcooked edges. All you have to do is dampen the cake strips with water before baking and secure them around the cake pans. Easy! Here's to beautifully cooked cakes with no domes, cracks or overdone crusty edges!
Wilton Deluxe Cake Decorating Set
Cake and cupcake decorating is so much more fun when you have special cake decorating tips! This awesome 46-piece cake decorating set is great for cake decorating beginners and comes with a 9-inch flexible offset spatula, durable storage case, disposable piping bags, bag cutter, twist quick coupler and 18 stainless steel tips you need - round, star, leaf, petal, basketweave, multipopening and more! The tips, spatula and coupler are all top rack dishwasher safe too!
OXO Medium Cookie Dough Scoop
This cookie scooper is so helpful when you're baking cookies - or when you're making mini muffins! It helps eject sticky dough and perfectly portion out 1.5 tablespoons of dough or batter helping create uniform cookies or mini muffins that bake evenly. Hands down this is one of my favorite baking tools. It's dishwasher safe too!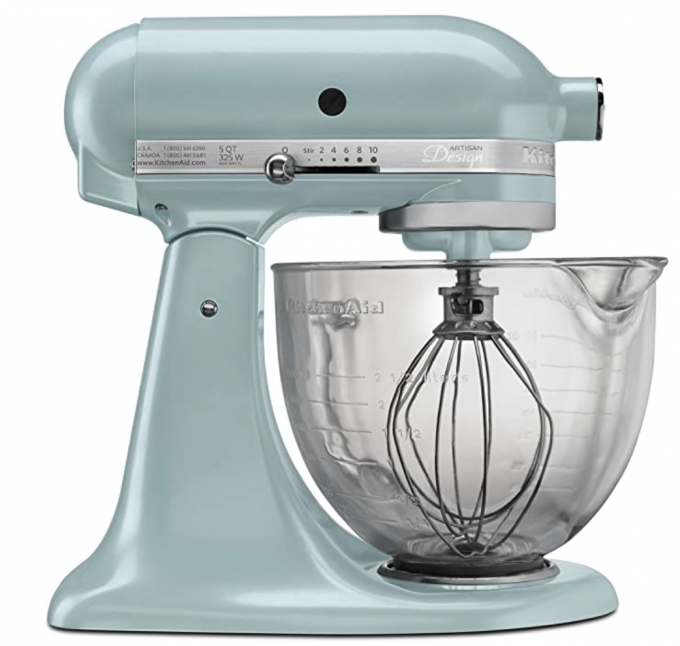 KitchenAid Stand Mixer
This is one of my all-time favorite kitchen tools! I love this stand mixer so much. It's wonderful for all your mixing and baking needs. It helps makes the best homemade marshmallows, homemade whipped cream, buttercream frosting and more! It's great for beating, whipping and making the perfect dough.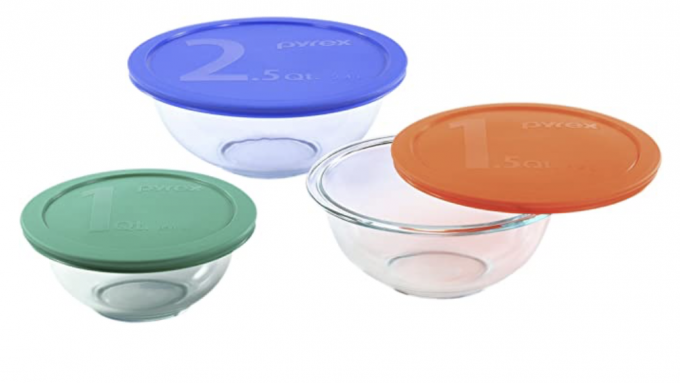 Pyrex Mixing Bowls
I love these glass mixing bowls! They won't stain or absorb odors, they are freezer safe, come with lids for easy food storage, and have so many uses.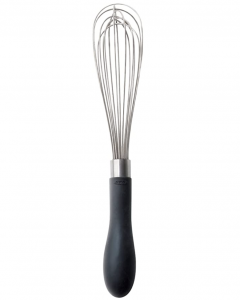 OXO 9-inch Whisk
This 9" whisk is perfect for all your whisking needs! It's well constructed with a comfortable grip and soft handle, has polished stainless steel wires, is super sturdy and holds up well over time. It works especially well for baking needs, batters, making scrambled eggs, custards, etc. It's easy to clean and dishwasher safe too!
OXO Basting & Pastry Brush
This little basting brush is perfect for the kitchen! Perfect for basting melted butter or egg-white washes on delicate pastries, cookies, scones or biscuits and for basting meats and vegetables with your favorite marinade or healthy fat of choice! It's easy to clean, dishwasher safe and heat resistant too!
Tovolo Silicone Spatula & Spoonula Set
This spatula set is super sturdy with stainless steel handles and flex-core silicone heads for strength. The spatula is perfect for fitting into corners and allows for even spreading with edges that are tapered to a sharp point to scrape sides clean. The spoonula combines a spatula and deep spoon and is perfect for all your scooping needs. The silicone coating easily scrapes bowls and bakeware clean without any scratching.
Global Cutlery USA 8" Chef's Knife & Paring Knife Set
Every kitchen needs quality, sharp knives. I love these professional, rust resistant, perfectly weighted (to ensure balance in the hand), high carbon stainless steel knives. They're a perfect set to use in the kitchen - great for chopping, slicing, mincing, hand peeling, precision cutting and more! These knives are exceptionally sharp and stay sharp longer than others because they are designed with a straight edge, not a standard beveled edge like most knives - remember, sharp knives are safer when it comes to kitchen cutting basics, dull knives actually cause more safety issues.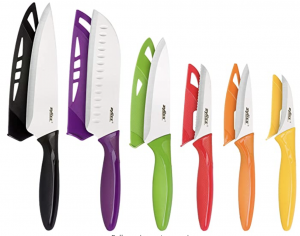 Zyliss Everyday Knives with Blade Covers
I LOVE these knives for everyday kitchen use! One of my favorite things about these knives is that they come with blade covers. They are perfect for traveling too - whether you're having a picnic or an on-the-go lunch, you won't have to worry about them with their handy covers.
Lodge Enameled Cast Iron Dutch Oven
I had always wanted a dutch oven to cook with. They have that old-fashioned feel to me. I've never had the budget to buy a high-end dutch oven, so I stumbled upon these when searching for a less expensive version (but still high-quality). I LOVE my beautiful dutch oven, it's so pretty that I actually leave it out on my counter. But back to it's function - it works wonderfully and is perfect for stews, roasts and even making homemade bread.
Microplane
This microplane is one of the first kitchen tools I ever bought. I have had it for over 10 years and it still works perfectly. I usually use this to make lemon, lime and orange zest and to grate ginger. It's also great for hard cheeses - it makes the most beautiful, fluffy, light pillows of grated parmesan cheese – perfect for garnishing dishes with.
Microplane Coarse Grater
I use this coarse grater all the time. It's perfect for grating hard cheese like raw parmesan, for grating garlic (which I usually do for almost every dinner, I prefer this to mincing or chopping garlic) … and of course, for grating chocolate, yum!

Oster ECO DuraCeramic Belgian Waffle Maker
Sweet or savory, waffles are so much fun! They can make a morning breakfast extra special and can act as the bread for a savory sandwich. I love that this waffle maker has a natural ceramic coating that is free of PTFE & PFOA chemicals.
Cuisinart Food Processor
I love my food processor. I have had it for years and it's still in great shape. I grew up watching my mom use hers all the time and quickly learned how to use it to prepare so many things. This is absolutely a must-have for kitchens!
Tovolo Perfect Cube Ice Trays
These ice cube trays make the absolute best ice cubes! I LOVE them! Fill them up with filtered water and you'll get a perfect square cube. They work great for other things too like freezing bone broth, homemade baby food, frozen lemonade, homemade fudge, etc.
Cuisinart Frozen Yogurt, Ice Cream & Sorbet Maker
I got my ice cream maker as a gift when I graduated from college many years ago. I'm still using it and love it! There's nothing better than homemade ice cream. I make it all the time during the summer and still use it during the colder months too. Ice cream is good year-round in my opinion.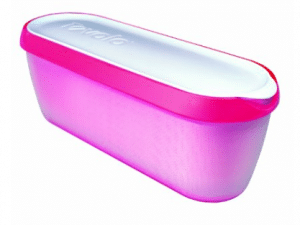 Tovolo Ice Cream Freezer Tub
If you've followed me for a while, you know I LOVE homemade ice cream! It's nice having freezer safe ice cream containers to store homemade ice cream. I love these Glide-A-Scoop containers that help get the perfect scoop.
The Lovevery Play Gym
If you are expecting a baby or have a loved one who is pregnant, the Lovevery Play Gym would be a very special gift! I got this for my little guy when he was born and he loved it! There are so many things that I love about this unique play gym that make it stand out from all the others - the first being that it's safely designed with baby-safe materials like FSC sustainably harvested wood, organic cotton toys and teethers, BPA-free silicone teethers, etc. It's free from flame retardants, BPA, lead, and phthalates and even exceeds global safety standards! I also love that it gives your baby a whole year of play. This Montessori-like play gym is stage-based for their developing brain. It includes everything that your baby needs in an activity gym and play mat - from batting to teething to learning to focus - for playtime and tummy time. From a maintenance perspective, it's also very easy to put together and easy to wash and clean.
The Gift of Wellness - Essential Oils + Diffuser + 1:1 Support from Me
Essential oils are life changing and can be a huge part of your wellness journey. When you buy a Young Living Premium Starter Kit, you get 11 popular essential oils - Lavender, Peppermint, Lemon, Frankincense, PanAway, Thieves, Citrus Fresh, Copaiba, Raven and DiGize. Plus a bonus bottle of the popular Stress Away blend. You also get an essential oil diffuser, an aroma glide roller fitment, a sample packet of Thieves Household Cleaner + more. Plus you get direct support from me. The total value is over $300, but you pay half of that price. There are NO monthly minimums or fees + no obligation to sell the essential oils. You automatically become a wholesale member – which entitles you to 24% off all future purchases from Young Living. Find out why I love Young Living essential oils so much and get the gift of wellness here.
Naturally Healthy Babies and Children
Naturally Healthy Babies and Children is one of my favorite books ... a must-have in my opinion for anyone with kids. In the book, Aviva Romm, a well-known doctor, herbalist and author covers common health issues (from anemia to whooping cough) for babies, children and adolescents. She uses the whole-child approach integrating herbal remedies, holistic health, nutrition, hygiene, home environment and more. LOVE, LOVE, LOVE this book!
Rosemary Gladstar's Herbal Recipes for Vibrant Health
A very informative reference book full of wisdom from well-known herbalist Rosemary Gladstar. It includes 175 teas, tonics, oils, salves, tinctures and other natural remedies for the whole family. It has full chapters on stress and anxiety, home remedies for everyday health issues, natural body care, children, women, men and elders. This is my go-to book for natural remedies for the whole family.
DefenderPad Laptop EMF Radiation & Heat Shield
I don't know about you, but I spend a lot of time on the computer. I'm guessing if you're reading this, you spend some time on the computer too. And I'm guessing you know that laptop computers release invisible high frequency radiation (EMFs = electromagnetic fields). This laptop shield helps block the radiation and reduce heat. This is what I use and I love it! I notice a huge difference compared to having nothing on my computer. I always have my kids use them too when they're using computers for schoolwork.
Perfect Supplements Pesticide-Free Grass-fed Hydrolyzed Collagen
I love this grass-fed collagen! My family uses it daily as a wellness and gut-healing supplement. Like gelatin, it's known for its health benefits of improving gut health, dental health, joint health and building stronger bones. Awesome, right?! It's also a wonderful quick protein that is easy to digest and dissolves in cold or warm liquids. This is always my husband's go-to after workouts for a quick protein boost. I add it to smoothies, hot chocolate, homemade ice cream, muffins, baked treats, peanut butter truffles and more! BONUS: For Recipes to Nourish readers, I have a 10% OFF your entire order coupon, just enter NOURISH10 at checkout. You can read more about why I love it so much here.

Pure Indian Foods Grass-fed Organic Ghee
This is my favorite ghee. It's handcrafted by a wonderful family that has been in the ghee business for 5-generations. This ghee is made from from non-homogenized grass-fed cow's milk from springtime thru the fall and tastes delicious.

Taza Chocolate Mexicano Chocolate Disc Sampler
My family loves these chocolates, especially melted in hot chocolate. TAZA chocolate is organic, stone ground (like traditional Mexican chocolate) and made with healthier ingredients than the traditional version. It has this lovely gritty texture that adds a yummy little crunch. This sampler comes with Cinnamon, Coffee, Vanilla, Salted Almond, Guajillo Chili, Cacao Puro, Chipotle Chili, and 85% Dark Chocolate.
Equal Exchange Organic Chocolate Caramel Crunch with Sea Salt
Chocolate again ... yes, I love chocolate and this is my favorite chocolate bar. My family loves this organic and fair trade brand. They have some delicious flavors, but the caramel crunch with sea salt is my favorite! My kiddos love this one too.
Cocomels Sea Salted Caramels
Looking for a little sweet treat? These dairy-free caramels made from coconut milk are AMAZING!
Alter Eco Salted Caramel Truffles
Fair-Trade, Non-GMO, Organic Truffles ... these babies are seriously delicious!
Life Factory Glass Bottle
Skip the plastic and choose these pretty glass bottles instead! They're perfect for on-the-go drinks. They're dishwasher safe too!
Lunch Bots Insulated Container
These eco-friendly reusable stainless steel containers are great for keeping your lunch hot or cold on-the-go! Great for school lunches, taking lunch to work, day traveling and picnics.
ECOlunchbox Three-In-One
These are my favorite on-the-go stainless steel lunch containers. They're great for work or school lunches and for on-the-go lunches or snacks.
Looking for some Homemade + DIY Gift inspiration?
DIY Calming & Detoxing Bath Salts
Homemade Honey Sweetened Cinnamon Marshmallows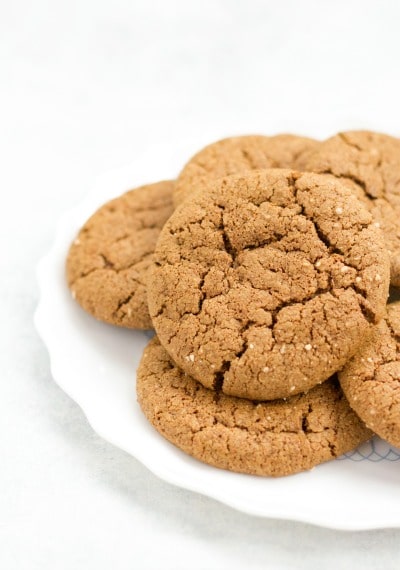 Grain Free + Paleo Ginger Molasses Cookies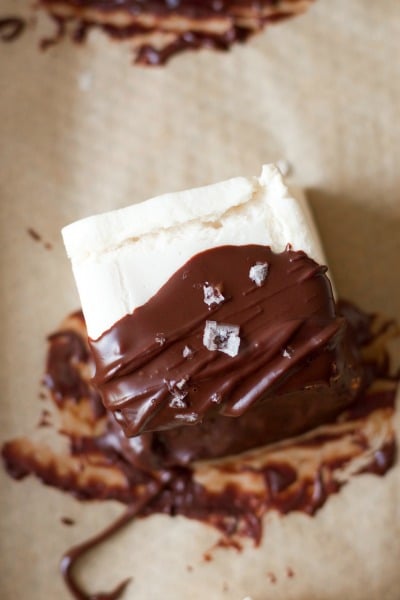 Healthy Chocolate Peppermint Marshmallows
Are you on Pinterest? I pin lots of yummy real food recipes + more there. I have a board just for Winter Favorites + Christmas too. Come follow along.
LEARN MORE ABOUT NATURAL LIVING + JOIN MY FB GROUP
Join my Recipes to Nourish – Natural Living Facebook Group – a learning community focusing on Natural Living, Self Care, Wellness + Vibrant Health. Topics include DIY recipes, natural body care, real food recipes, non-toxic living, essential oils, supporting the body, chemical free home + much more.
MORE YOU MIGHT ENJOY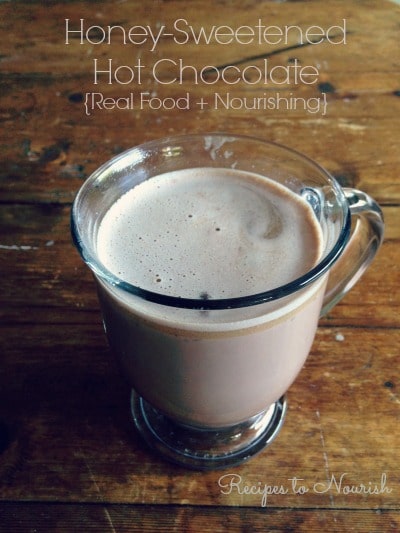 Nourishing Honey Sweetened Hot Chocolate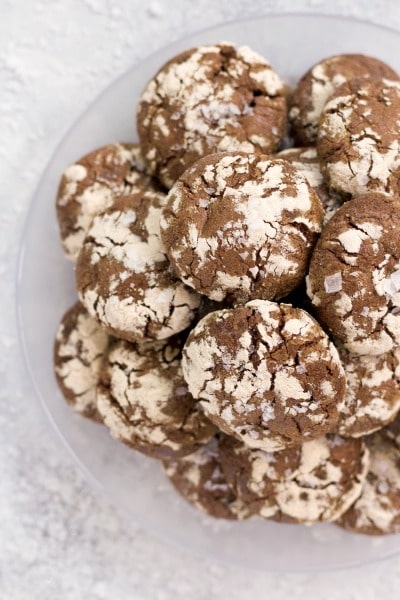 Grain Free + Paleo Chocolate Crinkles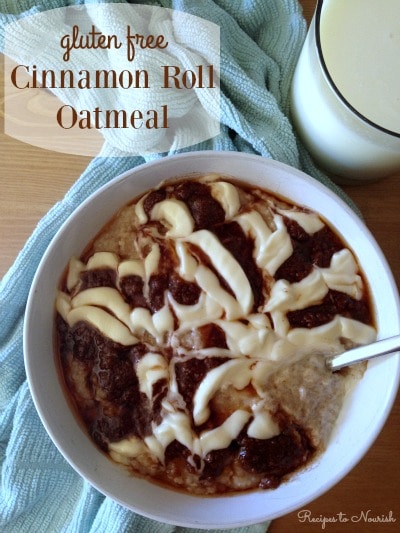 Cinnamon Roll Oatmeal {Soaked + Gluten Free
Must Try Holiday Essential Oil Diffuser Recipes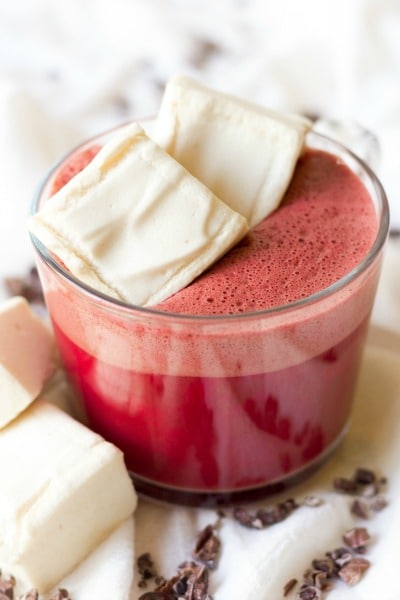 Healthy Sweet Beet Hot Chocolate
SaveSave